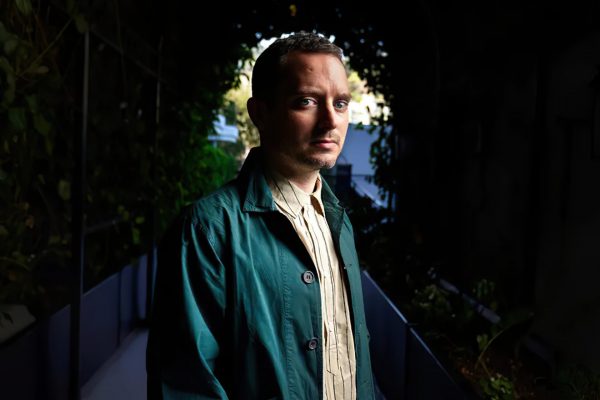 With Elijah's new film, No Man of God, now out in theaters and streaming, there's a lot to cover. Interviews, reviews and plenty of videos. Some related to the film, some not, but all great viewing.
First of all, if you want to watch this riveting film, it's out in theaters in limited release. Here is a list of theaters it's playing at. If you're nowhere near one of them like I am, you can stream it on platforms like Amazon Prime, iTunes, Vudu, YouTube, and Google Play.
Elijah chatted with a lot of folks about working on No Man of God and various other subjects either by print or by video. Here are a few of them. Access Hollywood, ET Online, On The Red Carpet, Salon, and The Austin Chronicle.
His co-star, Luke Kirby, also gave print and video interviews with New York Live, Movie Maker, and ScreenRant.
Not to be missed, director, Amber Sealey, also spoke about making the film with Film Forums, Kicking the Seat, Movie Maker and The Jan Price Show.
There are other videos that are not completely related to the film. Check out these amusing retrospective conversations. The Fellowship of the Ring 20th anniversary, Most Iconic Characters, Data of Me, and a lively game playing The Ultimate Food Trivia Quiz between Elijah and Luke.
We know Elijah portrays FBI Special Agent Bill Hagmaier and this movie's core is about his experiences with Bundy. The real Hagmaier shared his account on the years he spent with Bundy and the film follows it pretty closely. While this is a fascinating read, it may be disturbing to some.
What are people saying about No Man of God? Below are just a few of the very favorable reviews. Beware of spoilers in all these reviews.
Print reviews from The Hollywood News, The Chicago Sun Times, The Aisle Seat, ScreenRant, and Nightmarish Conjurings. Video reviews by Film Threat, Insufferable Bastards, and a podcast review from One of Us.
Finishing up this new movie recap, here are a couple of behind the scenes photos from the film. [1] [2]
I can't go through the video rundown without bringing attention to Elijah's recent appearance on First We Feast/Hot Ones. Elijah has been anxious to be a guest on this spicy culinary show for a long time and he closed out the show's 15th season with a bang. As a powerhouse, chewing his way through a gauntlet of fiery chicken wings, he's a joy to watch. Check out the screencaps here.
Filming wrapped on The Toxic Avenger earlier this month. Here are couple of photos from set. [1] [2]. Afterwards, Elijah took some time off to travel, with fans finding him in Bulgaria where the movie was shot [1] [2], Denmark, and France.
Elijah has teamed up with Double Fine again. Seven years after his award winning performance as Shay in Broken Age video game, he's now the voice of Nick in Psychonauts 2 and Game Dialogue has pieced together all of his speaking parts.
While Elijah had to bow out of MegaCon Orlando this month due to filming, he's slated for the Motor City Comic Con in Michigan come the weekend of October 15th.
Finally, a late additional behind the scenes photo from Come To Daddy.
Whew! That's all for now, and if all goes well, it just may be.