How Elijah Wood Became The New Weirdo On Yellowjackets
by, Gabriella Paiella April 14, 2003 GQ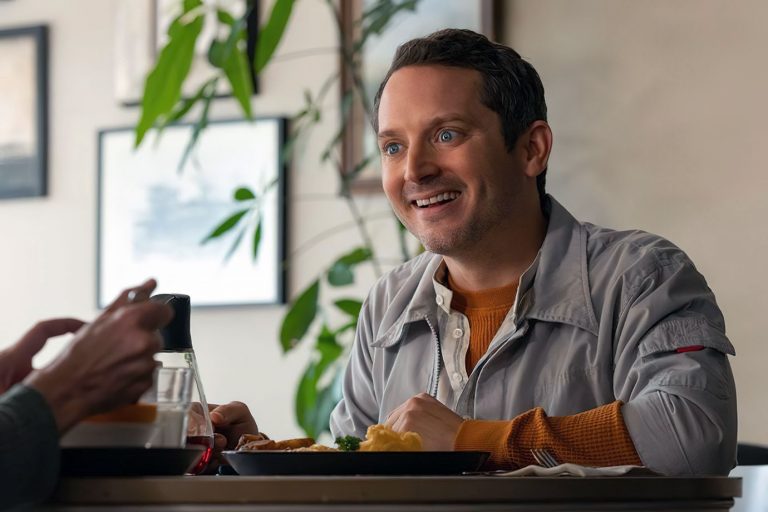 Elijah Wood as Walter Tattersall on season two of Yellowjackets. Kailey Schwerman / SHOWTIME
"I'm fascinated by cults," Elijah Wood says, trademark blue eyes widening. "Serial killers were always really interesting to me."
Though the actor is now 42 and a father of two, with flecks of gray dotting his beard, he still retains his trademark youthful innocence and affability. It's this quality, even when discussing the freakier aspects of human nature, that makes him so precisely well-suited for his role on this season of Yellowjackets, TV's hottest cannibalism drama about a girls soccer team. Wood plays Walter, a new companion for Misty (Christina Ricci) and a true crime obsessive who happens to be so friendly and chipper that you have to wonder if he's a serial killer.
One of the now-adult survivors of an infamous plane crash that left her team stranded in the wilderness for 19 months, Misty has an offbeat way of interacting with the world (talks too much about her pet parrot) and a twisted sense of justice (drugging a woman who was sniffing after the Yellowjackets and chaining her up in a basement for most of season one). Walter and Misty initially meet on a citizens detective message board—PuttingTheSICKinForensics seeks AfricanGrey—before hitting the road to find her missing teammate Natalie (Juliette Lewis).
Wood describes Walter as "maybe slightly more functional than Misty. Her eccentricities sort of butt up against the world around her, despite the fact that she tries to seem fun and funny. Walter has figured it out a little bit more."
Ashley Lyle, co-creator of Yellowjackets, told me that the writers' room had dreamcast Wood as they created Walter—big-eyed, guileless, and the ideal companion for Misty.
"From the get-go, Elijah is who we talked about. We kept saying, 'We're not going to get Elijah Wood, so everybody calm down,'" she says. "He seems like somebody who's not necessarily hiding something. And that works so well to play against somebody who is hiding something. We knew we wanted somebody who is Misty's match and it just felt perfect." (Of course, in the world of Yellowjackets … everybody is always hiding something.)
Lyle and her co-creator Bart Nickerson pitched Wood over the course of a lunch and, he was such a fan of the first season, that he said yes without even seeing a script.
Though Misty and Walter's friendship seems to be evolving into something more, this isn't meant to be a straightforward romantic relationship. "These are two characters who, more than looking for romance or sex, are just looking for someone who understands them. We built Misty as somebody who very few people understand, who has gone through life feeling very much unseen and unappreciated," Lyle says. "And so we designed Walter as somebody who actually sees her and appreciates her for who she really is and is hoping to get that in return. It's more about them being soulmates." Their connection just happens to hinge on conducting sketchy ad hoc interrogations.
The Yellowjackets role makes sense for Wood. In the years since he broke out as Frodo Baggins in the Lord of the Rings trilogy, his roles have often veered dark: He played a cannibalistic serial killer in Sin City, the FBI profiler up against Ted Bundy in No Man of God, and produced the Nicolas Cage psychedelic horror bender Mandy through his company SpectreVision. Even his segment in the 2007 anthology film Paris, je t'aime involved a vampire plotline.
With all the goodness and decency associated with his character in Lord of the Rings, was this a deliberate swerve? "Maybe right after Lord of the Rings, the idea of pushing boundaries or pushing up against preconceived notions as to who I am [appealed to me]," Wood says. "But honestly, over time, it wasn't really motivated by anything beyond falling in love with material or wanting to work with a filmmaker." Plus, he's just a good old horror buff.
Wood emerged from the Lord of the Rings trilogy two decades ago, a life's work behind him by the age of 22.
As for Wood, he's returning to New Zealand this spring, where he spent all the many months of his young adulthood filming Rings. He'll be playing a magician dad on a road trip with his estranged daughter in the upcoming film Bookworm. It will be his first trip back in nearly a decade, and the first one in a decidedly new season of his life: this time, his family is coming along.