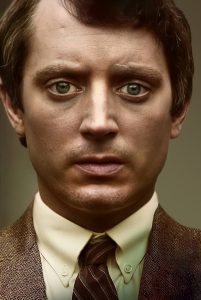 Not long after the last recap, the trailer for Elijah's film, No Man of God, was released as well as the official movie poster.
No Man of God will make its European premiere at the Arrow Video FrightFest in London on August 29th just after the U.S. release on August 27th in theaters and streaming. Click to find out more about the festival and get tickets.
Have a look at some high res stills from the movie. [1] [2] [3] [4] [5] [6] [7] [8]
Some cool poster artworks have come, both officially and fan made. Check out the original poster design for FrightFest and the blu-ray by illustrator, Thomas Walker (TommyPocket). Fan made works from graphic designers, Colm Geoghegan (CreepyDuckDesign), Agustin R. Michel, and one I'm not sure of the artist, but it's a doozy! Last month I had my hand in on making a poster myself.
This coming Monday August 2nd, Elijah will be a guest on Brain Rot podcast where they discuss the best of the worst horror films from the 80s and 90s. Just up Elijah's alley. Visit their site and choose the app of your liking. It should be a fun conversation.
There's good news and bad news. The good news is that Elijah is scheduled to start filming The Toxic Avenger in Bulgaria in August. That means the bad news is he along with Billy, Sean and Dom have cancelled their appearance at this month's MegaCon Orlando. According to the con's Twitter account, it wouldn't be a reunion without all of them so they will be there in 2022, but we'll just have to wait and see.
That's all… for now.