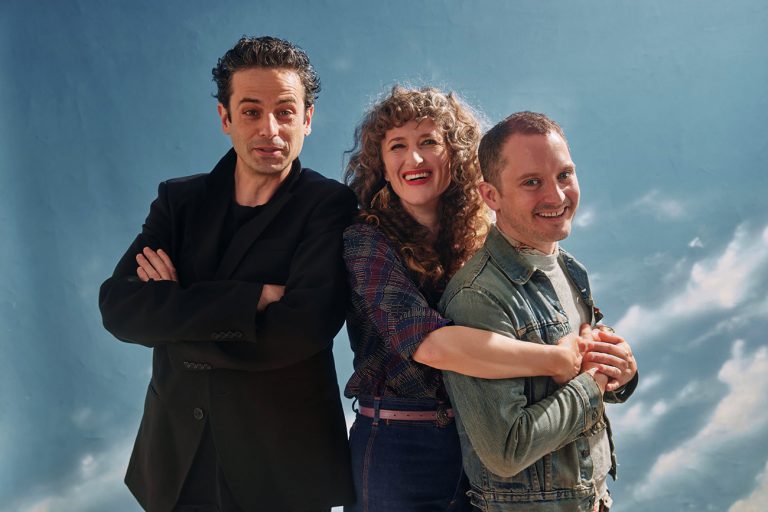 Elijah's new film, No Man of God premiered at the Tribeca Film Festival. Covering a premiere or a film festival almost seems foreign but there are plenty of photos from the event here.  Also, there are videos before and during the festival from Collider, NOIAFT, Spectrum News, a quickie from the Q&A, for you lucky Canadians, one from ET Canada, and a really fun one from Vulture where Elijah speaks more about geese and pizza than the movie.
Nearly two dozen early reviews of the movie are positive, giving high praises for the acting, directing, writing and aesthetics. Below is a small list of them.
Film Threat
Bloody Disgusting
Big Gold Belt Media video review
Dread Central
Film Inquiry
Reel Talk
Killer Horror Critic
Nocturnal Critic's personal picks for the best of the festival. Play attention to the number 2 spot at 14:38.
Director Amber Sealey along with her stars, Elijah and Luke Kirby talk to Deadline about the movie.
Here's a very good article on Patrick Nelson Barnes about his work editing No Man of God.
Just days before the festival, the announcement came that the movie will be out in theaters and streaming on August 27th. I saw the film through the Tribeca at Home platform and I watched it as many times as I could before my time ran out. It's a compelling work of movie-making where I found the acting superb and the cinematography striking.
With the new movie accounts summed up, Elijah sat down with a couple of good friends for their podcast, The Friendship Onion, in a two part reflective and humorous must-see conversation. [Part 1] [Part 2]
Earlier this month reports came that Elijah was on board to be the main villain in the reboot of The Toxic Avenger, directed by Macon Blair. Elijah and Macon together again? It was exciting news but I was a bit skeptical because Elijah himself didn't confirm it. Low and behold about a week later, it was announced the villain would now be played by Kevin Bacon. But not long after, Elijah happily tweeted that he will indeed be part of the cast. Shooting is scheduled to begin this week in Bulgaria.
To close out this "back to normal-ish" update, Fantastic Fest will be back this year. Sadly, I won't be attending but you can bet Elijah will be there, hyped and ready for some fantastic fun!
That's all… for now.