"There is a saying that every nice piece of work needs the right person in the right place at the right time."
~ Benoit Mandelbrot
Filmmaking has evolved over the years. In the golden age of Hollywood, actors and directors signed long-term contracts with production companies and thus had to work exclusively with them. Those companies would shape and mold the actor, and many times emphasis was placed more on image than performance. In the 1960s, those contracts were abandoned, and talent agencies called the shots on which films their clients worked. Today, films, particularly independent films, are made mainly by extensive networking by all involved. As Elijah stated:
"Truthfully, going to Fantastic Fest in Austin, meeting the folks I've met there, forging the relationships with filmmakers and producers in that genre community had a huge influence on me both as a producer and actor."
Previous movies made through Fantastic Fest connections were Grand Piano, Open Windows, and one upcoming film that took years to finally slate after a festival encounter. While attending Fantastic Fest in 2013, Elijah met actor and writer Macon Blair. By that time, Macon had eight projects on his resume before he began work on a comedy crime drama that he penned. That year Macon's critically acclaimed film, Blue Ruin, screened at the festival and caught Elijah's attention. "I was a huge fan of his work in Blue Ruin and met him at Fantastic Fest in Austin, and he said, 'Hey, I've got this thing that I've written. Do you mind if I email it to you?"
Macon's story is of a depressed woman whose home is burglarized, setting her on a mission to find the perpetrators and retrieve her belongings. Macon envisioned Elijah as Tony, an obnoxious neighbor who helps in the caper. New Zealand actress Melanie Lynskey was cast as the protagonist, Ruth. She and Elijah previously worked on Over The Garden Wall and have a connection through Peter Jackson, whom they refer to as "Papa P." He directed Melanie in Heavenly Creatures (1994).
Filming began in April 2016 in Portland, Oregon. While in production, Macon pitched his movie to Netflix, whose roster holds endless films and programs manufactured especially for the prominent streaming production company. At the time, Macon had a name for his directorial debut but was apprehensive about its wordy title. His creative crew conjured more concise labels, but Macon was set on keeping the original name. Netflix felt the title was appropriate. Thus, I Don't Feel At Home in this World Anymore came to be.
The dark comedy was first screened at the 2017 Sundance Film Festival, where it was honored with the Grand Jury Prize for Dramatic Feature Film. I Don't Feel At Home landed on many top 10 lists and garnered recognition from the Austin Film Critics Association, the Gotham Awards, and countless favorable reviews for its credible look at society, the pure performance from Melanie, and the witty comedic turn from Elijah.
"As Tony, Wood is fucking hilarious and awesome. This character is so good; I wish there were a spinoff of him helping people solve problems, one neighbor at a time. I love, love, LOVE this character. I've never liked watching Wood on screen more than I did in this movie. He's that good."
After his relationship with Pamela Racine ended, it took Elijah six years to be mesmerized by the graces of another female companion. This makes this author contemplative about the moment he met Mette-Marie Kongsved. When production began in early 2016, she was a producer on I Don't Feel at Home. The first sighting of Elijah in the company of the Danish filmmaker was in July at the San Diego Comic Con. They were among the guests on an Indie Horror film discussion panel. It's not known if working on the movie was the beginning of a romance, but somewhere sparks did fly.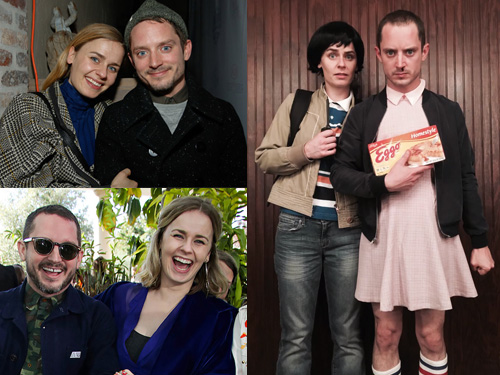 While reveling in a new relationship and soaking in the film's success, Elijah's other project, Dirk Gently's Holistic Detective Agency, was finding a loyal television audience when it debuted in the fall of 2016 on BBC America. With its cast of misfit characters, led by a holistic detective, Dirk Gently (Samuel Barnett), and a deceptive ex-punk rocker, Todd Brotzman, played by Elijah, the science fiction comedy quickly became a fan favorite.
The show's motto, "Everything is Connected," held true for those who waited patiently for the madcap adventure to take shape. In its first season, a murdered billionaire, his missing teenage daughter, an indestructible assassin, her tech-savvy accomplice, a neurotic, badass security officer, four psychic vampires, Todd's shut-in sister with a debilitating disease, a corgi, a kitten, a shark, a time travel/soul -swapping machine and an impressive supporting cast all played critical roles in the discombobulated yet thoroughly entertaining mystery.
Reception for Dirk Gently was favorable with critics who stated it overdoes on pure weirdness but offers absurdist rewards. "You pretty much have to opt-in and just go with it to get Dirk Gently, but television needs absurdist/escapist fare that's not just dumbed down by the networks but has a sense of ambitious fun."
Fans of the show were captivated by the flawed but charming and relatable lead characters, which brought hundreds of fan art and ingenious cosplay; even a whodunit board game was created. Before the end of the first season, it was announced that Dirk Gently would see another season, and filming began again in Vancouver in May 2017.
Elijah continued to work on projects for SpectreVision while basking in the glory of a critically acclaimed film and television program. With the addition of CEO Lisa Whalen, they would expand to form Company X, a larger umbrella company, and partner with Ubisoft on gaming and Legendary Entertainment for television development. The new progression was to expand beyond the indie horror film genre to incorporate a diverse array of projects.
"Because our approach to SpectreVision was so specialized, we constantly passed on scripts we loved, but that fell outside that specific context," Elijah said in a 2016 interview with Vanity Fair. "Company X removes those self-imposed shackles and allows us to jump into broader material and target wider audiences."
This advancement didn't skip a beat, with several undertakings slated on the SpectreVision/Company X plan in the coming years. The first Company X project to come to fruition would be Bitch (2017) with Jason Ritter and Jamie King. Hot on its heels was Seven Stages to Achieve Eternal Bliss (2018), starring Taika Watiti and Rhea Seehorn.
Back on the SpectreVision side of productions, an announcement came in June 2017 that Nicolas Cage was to team up with Elijah again but not acting beside him. Cage would be the main character in the psychedelic, blood-thirsty revenge movie Mandy. While working on The Trust, Elijah developed a concrete bond with Nic, with their zest for film-making at the center. Elijah passed a copy of the sci-fi thriller, Beyond the Black Rainbow, directed by Panos Cosmatos, to Nic, who fell in love with it. Panos met with the SpectreVision team at Fantastic Fest in 2011 and was in talks for years about creating Mandy with them.
The team began filming in Belgium in 2017 and, along with their film, Bitch, had its premiere at Sundance a year later. Mandy won over audiences and critics with a 90% rating based on over 200 reviews on Rotten Tomatoes. The movie catapulted into a cult phenomenon and racked up numerous nominations and awards for its acting, directing, hallucinogenic visuals, and music scored by Johann Johannsson.
Elijah told Deadline: "This is absolutely the most successful film and best-reviewed film we've made since we started this company." SpectreVision pushed for an Oscar campaign for Cage as Best Actor and Johannson for Best Original Score.
Elijah teamed up again with his friend, Autumn de Wilde, for a series of whimsical short films for Prada entitled The Postman. Elijah portrays the dutiful courier tasked with delivering fashion bags to gleeful recipients such as Emma Roberts, Amber Valletta, and Natalia Dyer. The five-part act earned Autumn a Clio Award. All of this is happening as the second season of Dirk Gently was in production and wrapped in August 2017 with an October release date.
Dirk Gently's second season began not where fans thought the cliffhanger from the first ended. Viewers were immediately planted into the fairytale land of Wendimoor. From there, characters old and new were slowly introduced into the story, each experiencing their dilemmas in a fabulous brain-twisting fashion.
"Dirk Gently's Holistic Detective Agency is such an odd medley of ideas; on paper it really shouldn't work as well as it does. The humor is on point and genuinely funny, woven through the well-written story with such proficiency that it gives even the darkest scenes in the show (and there are a few very violent ones) a touch of lightheartedness."
"Dirktectives," as the show fans were called, became concerned as the season of witches, magic spells, scissors, pink-haired farmers, monsters, dimensional travel, and fanciful dreams went on without word if a third season would occur. In December 2017, just two days after the cliff-hanging season finale, BBC America announced they were canceling the award-winning show, which hit fans like a ton of bricks. The viewership of Dirk Gently dropped in the second season, leading BBC America to make the unpopular decision.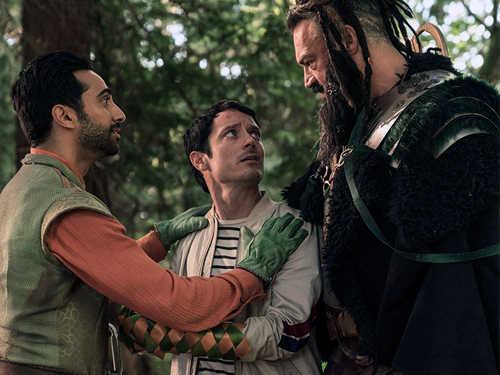 "The cancellation of Dirk Gently's Holistic Detective Agency will have to remain a tough pill to swallow for the fan-base who properly recognized it as an impressively unique television offering that threw out the rules of serial television."
Immediately fans took to social media, outraged as indications there was more to the story left to be told. Many blamed the lack of proper promotions from BBC America for the declining viewership. An online petition to keep the show on the air was started, and signatures were accumulating rapidly. Despite this push from fans and inside talks from the show's executives, all gallant efforts fell on deaf ears, even those of Netflix who hosted the show outside of the US.
Elijah stated, "I really loved playing Todd…I would have loved to have seen that carry on because we just had a lot of fun making that show, and it felt like there were so many other stories we could tell."
The year 2017 was a concerning one as many people in the industry made claims to be victims of harassment. It reached from the executive boardrooms to on-set productions and even hit Elijah's favorite community, Fantastic Fest. In December 2017, in the wake of harassment allegations during the week-long festival, administrative changes took place, and Elijah was one of those named to sit on the board of directors. The newly appointed member's goals were to reform the festival experience with an open and inclusive environment.
A sad headline started off February of 2018 with the news that SpectreVision's illustrious musical artist, Johann Johannsson, had died. The company tweeted, "He was our dear friend, our treasured colleague, and our beloved collaborator. We are devastated by his passing but blessed by the breathtaking beauty that he leaves behind." Elijah also tweeted, "So distraught and saddened to hear of Johann's passing. He was such an extraordinary composer and artist."
While dealing with this blowing loss, SpectreVision was fulfilling its agenda in the gaming world by releasing two reality-based video games; the mysterious JoinDispatch, their first mobile game, and the psychological horror based, Transference which Elijah presented at the Electronic Entertainment Expo (E3). The company was also prepping for its next film, Daniel Isn't Real. After completion, the drama fantasy made rounds at various film festivals around the globe and received high praise for its acting, visuals, and poster design.
Elijah has consistently advocated for several causes and lobbied for matters such as the treatment of animals, the environment, and human rights. In March 2018, Elijah and his girlfriend, Mette-Marie, along with millions of others across the globe, marched in protest of gun violence after another senseless shooting in Florida. March for Our Lives was among the largest youth-led protests since the Vietnam War.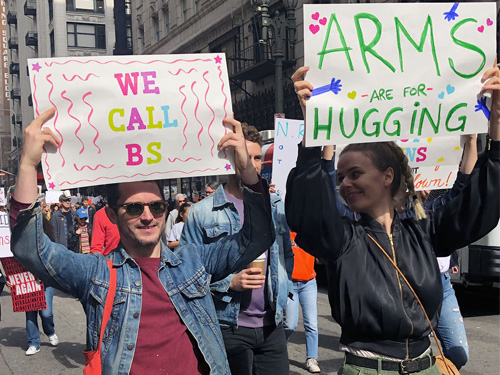 In 2018 Elijah would work with another first-time director, though he's teamed with Ant Timpson in the past on SpectreVision's wild romp, The Greasy Strangler. Before that, they met during a wrap party for The Lord Of The Rings and several times at Fantastic Fest. The New Zealand-born producer collaborated with his co-writer on The Greasy Strangler, Toby Harvard, to script a story Ant had involving his father, his dead father, and his traumatic experience living with the corpse for a week in his home. Together they forged the black comedy thriller, Come To Daddy. The script was sent to Elijah, who thought it was terrific because it constantly surprised him with where it was going.
Filming began in July 2018 in the small town of Tofino, British Columbia. It was being produced by Nowhere, the newly established production company with Mette-Marie as one of the partners. Ant had a distinct look to Elijah's character, Norval Greenwood, described as a privileged hipster, Los Angeles DJ, and man-child. Ant thought Norval's appearance should be in the fashion of DJ Skrillex and the two even went shopping for the attire. Elijah was game for the semblance but convinced Ant to tone down the look. In the unpredictable story, Norval visits his estranged father after receiving a letter from him 30 years following his abandonment, and things don't pan out as Norval anticipates.
Elijah spoke of his experience working on the film. "Actually, I didn't realize it until we were shooting it; so much of it is like a one-hander. I was by myself a lot. And in a way, there was a real intimacy to the production in that regard, because oftentimes there were no more than two people in one scene."
Location shooting proved to be a challenge on Come To Daddy. Film scouts located a stilted rustic coastal house perched on a tricky rocky incline, and while filming took place during the summer, the ocean was frigid. Between takes of being in the water, Elijah had to douse himself in warm water. The rocks were a misstep for Elijah and Ant as both hurt themselves navigating the terrain. Ant broke his foot, and Elijah severely sprained his ankle on his last day of shooting.
However, all the pain was worth it when the movie debuted at The Tribeca Film Festival in 2019. Attributes used to describe it ranged from sentimental, gory, bawdy, and hilarious to pragmatic, sobering, and tear-jerking. Come To Daddy gained award recognition, and Elijah's performance stood out, earning him nominations and awards for his performance from Fright Meter and Toronto After Dark Film Festival.
"Norval's arc is remarkable and enormous, and thanks to Elijah Wood's ever-exceptional work, the character feels almost too real. Wood does a tremendous job of not only carrying this movie but making it feel so believable and genuine."
Elijah has been a long-time fan of the Star Wars franchise and was over the moon when he was tapped to voice the subservient character, Jace Rucklin, in Disney's Emmy-nominated animated series, Star Wars Resistance, in October 2018. Elijah also lent his voice talent to other projects such as the World War I video game 11:11 Memories Retold, Cartoon Network's Summer Camp Island, and the narrator for The Panama Papers documentary. But he was also in front of the camera as filming began on the yet-to-be-released action drama LA Rush.
December would turn out to be a roller coaster ride for Elijah. Being in the industry since he was eight years old, he knows movies, but that doesn't mean he's seen all of them. To rectify this shortcoming, his close friends started a festival to view films that none had seen but were considered classics.
After watching Butch Cassidy and the Sundance Kid, Elijah was in between films. To pass the time, he decided to change the air filter of his loft-style home. After climbing to the roof, he carelessly crossed a skylight and plummeted 15 feet to the concrete floor below. Despite being in shock, he took account of his condition and discovered his left hand had been dislocated from the wrist and suffering a hip fracture.
He immediately called for an ambulance, then phoned Mette-Marie, and as calmly as he could, alerted her of what happened. He received medical care and was given fentanyl to help with his escalating pain but he was hesitant to take the opioid. Before doctors reset Elijah's wrist, he was administered ketamine and said the experience was like being in a Jodorowsky film. The physician informed him that the scaphoid in the wrist is a problematic bone to heal and that he should stop smoking which would help oxygen reach the bone. Elijah has been a smoker since he was 18 years old, and he knew it would be a difficult task to accomplish, so he sought out a hypnotherapist, and after two sessions, his nicotine habit was extinguished.
"I needed to seize this as an opportunity and use this as an opportunity to quit. Something physically happened to me that put me in the position that I probably should quit rather than really wrapping my head around it and being excited about it, so the first session didn't take. I was emotional and felt very vulnerable because of this separation of this thing that was a part of me."
During his pain and healing time, Elijah probably received the most joyous news of his life. It was revealed to him on Christmas Eve 2018, the day of his second hypnotherapy session, that he would become a first-time father.
With projects such as Wilfred, Dirk Gently, and Setup Punch, Elijah is recognized that comedic acting comes to him as naturally as dramatic. In 2019, Elijah appeared in two episodes of the long-running educational comedy Drunk History, where guests unfold the events of a particular historical moment while intoxicated. Actors play out the events while lip-syncing to the inebriated narrator. Elijah portrayed Percy Shelley in the hilarious retelling of the origins of the novel Frankenstein and John Raines, one of the members who broke into FBI headquarters to expose the Watergate scandal.
The third time is the charm, but honestly, the first two weren't anything to sneeze at. After many delays, it was finally announced Nicolas Cage would appear in another SpectreVision production, Color Out of Space, based on the short story by H.P. Lovecraft. Filming began in February 2019 in Portugal and was directed by Richard Stanley. He was absent from directing feature-length films since being replaced on The Island of Dr. Moreau in 1996.
SpectreVision was continuing to make bold strides in the development of its company. February 2019 marked another proceeding when they acquired the experimental marketing agency Lucey Stepp and formed Company X Marketing. This division would develop new approaches to brand messaging and event executions. Their clients include LA Comic Con and The American Cinematheque Theaters. During this expansion, however, partner Josh Waller stepped away from SpectreVision to focus on his directorial pursuits and to set up a new production company in Portugal.
One area that SpectreVision had not yet explored was the booming world of podcasts, but that was soon to change. Visitations would be a unique and impressive podcast not centered on promotion. Elijah and Daniel Noah had an idea for a podcast talking to people in the entertainment industry in their home or office without a crew present, so the conversation would not feel formal and hopefully, uncover something more personal.
Visitations is all about emotions. "We're interested in people who find something interesting in the darkness," Elijah told Forbes Magazine. "We want to know what happened in their childhood, what fears did they have, what led them on their path to creation?"
Hosted through the streaming horror site, Shudder, Visitations would hit the internet in May 2019. Some of their guests included Mike Flannagan, Taika Waititi, Kate and Laura Mulleavy, Flying Louts, Anna Lily Amirpour, and Guillermo del Toro. The 10-episode podcast grew an immense following and earned high respect from listeners and others in the industry with its compelling, authentic, and inspirational conversations that left listeners craving another season.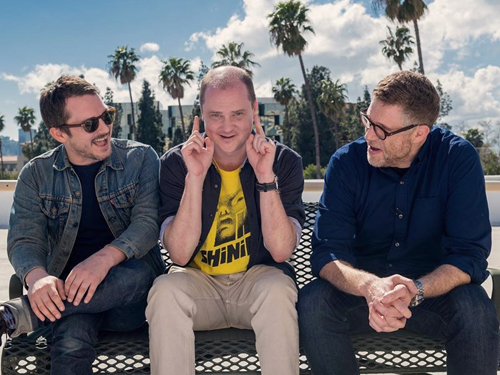 While it wasn't an enormous fanfare of celebrations and congratulations, Elijah marked his 30th year in the industry. With his first professional appearance in 1989, he is among a handful of other entertainers who have reached this milestone and showing no signs of subsiding. Even more impressive is transitioning seamlessly from a child actor into adulthood.
2019 saw Elijah attend multiple film festivals and fan conventions. Promotions for Come To Daddy and Daniel Isn't Real took him to the Tribeca Film Festival and the Overlook Film Festival. Fans relished in his company at conventions in Mexico, Australia, Canada, and several cities across the US. However, one festival was absent, his favorite, Fantastic Fest, but for excellent reason. Elijah understandably passed on the festival to be at the birth of his son, Virgil, in September.
SpectreVision's next movie was one not of their usual horror milieu. Archenemy is the story of a superhero, unlike the elevated heroes that had taken over the movie industry. Joe Manganiello, who portrays the titular main character, claims to have lost all his superpowers after traveling from another dimension. Another avenue SpectreVision was contemplating was the reboot of the series classic, A Nightmare on Elm Street.
The horror franchise went through several sequels and remakes over recent years, and bringing back the tale has been a long-time fantasy for Elijah and Daniel Noah. After the passing of the director of Elm Street, Wes Craven, the rights for the film traded hands several times, so legally, trying to bring back Freddy Krueger is on hold. This doesn't stop SpectreVision from continuing to pursue its dream.
Another imminent anniversary was the 20th year since the release of The Lord Of The Rings trilogy. Many conventions were being planned that would include the first public appearances of Elijah with Sean Astin, Billy Boyd, and Dominic Monaghan together. "There have been many twos and threes, but never a four." Boyd stated. Fans all over were super excited and anticipated this reunion tour of the foursome at public events in 2020. It was a fantastic period for Elijah, personally and professionally. But the tables would turn, and the coming year would become detrimental for not only him but the entire world.