"We could never learn to be brave and patient if only joy existed in the world."
~ Helen Keller


While making rounds for interviews, late-night talk shows, and film festival screenings to promote both Come to Daddy and Color Out of Space, Elijah was forced to end making appearances. Not only himself but the entire world abruptly stopped as a highly infectious and deadly virus blanked the earth.
Elijah's last public event was Comic Con Liverpool, which took place at the beginning of March 2020. A few weeks later, due to the Coronavirus (COVID-19) spreading rapidly, government officials and health organizations around the world instructed billions of people to stay home to help curb the transmission of the disease. Only essential workers such as those in hospitals, emergency services, communication crews, utility, and energy sectors were relevant to maintain critical functions. By April, nearly six million people worldwide were infected or lost their battle with the virus.
It was an unsettling and frightening event in world history. Businesses, schools, restaurants, cruises, and mass gatherings at sporting events, concerts, Broadway performances, and amusement parks were closed, suspended, canceled, and postponed, and the planned hobbit reunion at various conventions was called off. While in isolation, people found other means of communicating and interacting. Social media and virtual meetings through avenues such as Zoom grew in popularity to over 200 million people utilizing it daily.
During the height of the pandemic, Elijah, who remained quarantined like everyone, found a little escape in various ways. He carried on simple activities to occupy his time, such as baking bread and playing video games. One such game, Animal Crossing, placed him in trending status and led him to go viral on social media and in the press when his video game character casually interacted with another. This resulted in an online interview with the person he interacted with… all while playing the game. Also, his infant son took up plenty of his time, but he always finds light in a dark situation. "I think being isolated during this time is hard. I'm lucky; I've got family, I've got a child to take care of, and a lot of positivity to focus on. The silver lining has been just watching him grow. It's been like extended parental leave, and we may never have this kind of uninterrupted time again."
In the third month of stay-home orders, Elijah joined Cameo, a site where celebrities can be hired to record personalized videos. Elijah made himself available to deliver various messages, from birthday and anniversary wishes to good luck greetings. At the end of May, actor Josh Gad brought together most of the main cast from The Lord Of The Rings for an unprecedented group interview. While everyone remained safe in their homes, Josh was joined by Elijah, Sean, Dominic, Billy, Orlando Bloom, Sir Ian McKellen, Director and writer Peter Jackson & Phillipa Boynes, Viggo Mortenson, Andy Serkis, John Rhys-Davies, Sean Bean, Miranda Otto, Karl Urban, Liv Tyler, and composer, Howard Shore. As each person zoomed in one by one, those already online were happily surprised by their appearance. Reunited Apart, which aired on YouTube, was an appropriate engine for everyone to laugh and reminisce about their time making the trilogy.
The pandemic also caused Hollywood's film and television productions to cease operations. SpectreVision's next film, Archenemy, had completed filming and was in post-production when its release was postponed until the fall. Company X's latest film production was affected as well. No Man of God, in which Elijah also had a leading role, wasn't yet in the starting gate, and production, slated to begin in April in Toronto, was pushed back in the hopes of beginning filming in August.
In June, the threat of the pandemic was still ominous, but restrictions were beginning to ease slightly with many guidelines set in place so people could remain safe while trying to get back to their everyday lives. While Elijah was in one part of the world and Andy Serkis in another, they participated in a homemade impromptu version of The Princess Bride (1987), where many celebrities reenacted specific portions of the beloved movie from their homes. One of the first productions Elijah leaped into was work on a three-second shot for an AT&T commercial. He also traveled to Ukraine for a more hefty series of whimsical commercials for the role playing video game AFK Arena where he starred alongside a clingy CGI Orc named Uz.
After the extended delay, No Man of God was one of the first feature films to begin pre-production. The location was changed from Toronto to Los Angeles to avoid prolonged travel of the cast and crew. The postponement also made an allowance to implement the guidelines set for safe interactions. No Man of God is based on the true-life conversations between serial killer Ted Bundy, brilliantly acted by Luke Kirby, and Elijah's dynamic portrayal of FBI profiler Bill Hagmaier which led to the complex relationship that formed between them during the four years before Bundy's execution. One element that Elijah found fascinating about the project was the recorded transcripts between law-enforcer and criminal that was not widely known.
Several years after the script by C. Robert Cargill (Dr. Strange) came to SpectreVision at Fantastic Fest, No Man of God finally rolled camera in September 2020 after six weeks of preparations over Zoom. Considering its structure, the movie was ironically tailormade to shoot during the pandemic. Because most of the movie is set in an interrogation room with only Elijah and Luke, there was a relatively small production crew and a handful of actors dealing with the grueling Los Angeles heat and residuals from wildfires. Director Amber Sealey spoke about the experience. "It's been a challenge unlike anything any of us on the crew have ever known. Doing our prep almost entirely over Zoom, many of us will never meet each other in real life without masks, goggles, and at least six feet of distance between us." When filming ended in October, Amber said safety was the main priority, and everyone on set came out healthy.
Once pharmaceutical companies developed a vaccine in December to help restrain the life-threatening symptoms of COVID-19, the world breathed life into a new year with high hopes after the devastation and disruption of 2020. Elijah took to Cameo to record a heartfelt message: "This has been a difficult year for everybody. 2020 is something I think all of us have been looking forward to since we were kids. There's the sense of the future, and 2020 didn't quite turn out the way we all had imagined it to be. But it's not a lost year. It's a year that forced all of us to grow and continue to experience new things. I feel like the human race has pushed things forward in many ways through intense strife, and I feel like we're looking at the horizon of a new era." This is a thoughtful, articulated statement from Elijah, who marked another milestone when he celebrated his 40th birthday in January 2021.
For two decades, Elijah, who is nearly nine years older, has been confused with and compared to Daniel Radcliffe, who also starred in a highly successful franchise, Harry Potter. Since 2021 would mark the 20th anniversary of the two cinematic saga releases, Elijah and Daniel got together for a photo shoot and interview with Empire Magazine in celebration. However, through the magic of photography, they never actually posed with each other because of the pandemic. In a makeshift studio set up in a driveway, photographer Art Streiber photographed them separately and a week apart. As Streiber recounts, "Managing Elijah and Daniel's shoot in these pandemic times was a task. It must be said that they were both gentlemen! They were delightful in front of the camera and rose to the challenge of playing off of their invisible counterpart."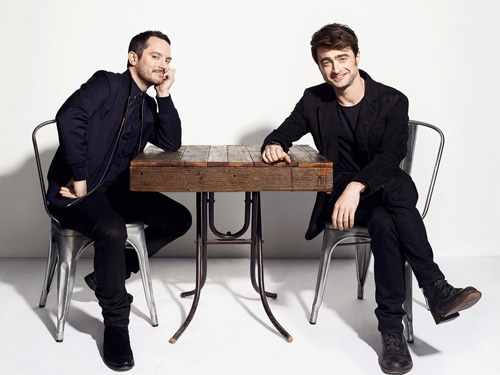 When Elijah was asked in 2019 if he would like to be a part of the vast Marvel Cinematic Universe (MCU) ensemble, he stated, "Yeah, man, it would be fun to play with the big toys." In 2021 he reiterated, "Working on a Marvel film, I mean, there's obviously a whole conversation that happens certainly in film Twitter about sort of the cinematic relevance of Marvel. Is it cinema? All this sort of shit. And whether you like superhero movies or not, they are inherently fun. And those movies are extremely well made. I think getting to play in that universe's sandbox would be a blast. It'd be totally awesome because it's at such an insane scale."
That being said, Elijah is a part of a more intimate group of actors who had their success in a mainstream franchise but explored other roles that don't pigeonhole them into a particular type of character. Many have placed Elijah in the trio of Daniel Radcliffe and Robert Pattinson as the "holy trinity," if you will. This sets these actors apart because they can choose roles that are different from their last and usually aberrant and significant independent movie-making.
One such film was No Man of God, which premiered at the Tribeca Film Festival in June 2021. Many people voiced their opinions about another film spotlighting Ted Bundy and his horrendous crimes, but this would be different from others. Director Amber Sealey was sought out by the SpectreVision partners to helm the production, and she had similar feelings. However, after reading the script, she went to SpectreVision with her take, and if her pitch wasn't accepted, she insisted the film had to be directed by a woman. Her approach would be unique and not glorify Bundy like in other films. One person who helped make the film stand above all other Bundy projects was FBI agent Bill Hagmaier who served as executive producer, and the film's direction was more about him. Amber, Elijah, and Luke gained valuable insights from Hagmaier and developed an accurate account of his experience.
Elijah spoke with The Sunday Times emphasizing how the film is different. "It's a movie that doesn't depict on screen any of his violence. It isn't about the trial; it isn't about the charismatic person and then the heinous crimes on the side, which have all been relatively well covered," he says. "This portrays him as the man that's actually facing his death who's desperate, not in control, that doesn't have his power."
The story follows Hagmaier's journey with the development of the Behavioral Science Unit division of the FBI, and his first psychological study was Bundy. The two played an intense game of cat and mouse, each trying to one-up the other while Hagmaier cleverly pursued a confession out of the infamous killer.
As with Cooties and Set Fire To The Stars, Elijah pulled double duty as actor and producer on the film and spoke about how it worked out in a COVID environment. "I really took my producer hat off shortly before physical production started so that I could primarily focus on playing the character. My producing partners handled the lion's share of the logistics as it pertained to the COVID compliance of it all. As far as the development of the screenplay and working with Amber and being there for those choices prior to shooting, absolutely, I was there."
Reviews for No Man of God were highly positive, pointing out the crafty acting, directing, writing and cinematography.
"There's nothing romanticized about this representation of Bundy; Kirby plays him like evil personified with only glimpses of humanity. As he barrels toward his execution date, he grows desperate to cling to life or find solace. Wood is perfectly cast here for Hagmaier's unassuming nature that disarms one of the world's most notorious killers. The entire feature hinges on their understated push and pulls and the internal emotional arcs and both leads are captivating."
Shortly after the movie's premiere at Tribeca, Elijah paid a visit to two close friends who launched their podcast, The Friendship Onion, with hilarious hosts Billy Boyd and Dominic Monaghan. Elijah was their first in-studio guest, and it was the first time the trio was publicly together in years to talk about their lives during the pandemic, music, video games, food, fatherhood, and collective experiences on The Lord Of The Rings.
There's always something brewing behind the scenes with Elijah, and rumors circulated on the internet of his next project. Director Macon Blair, whom Elijah worked with on I Don't Feel At Home at Home in this World Anymore, was rebooting the 1980s cult horror flick, The Toxic Avenger. For weeks it was stated that Elijah was set to play the main villain, but without confirmation by Macon or Elijah, those reports were left to be believed. Eventually, Elijah took to Twitter to announce that he would be a part of the cast, but Kevin Bacon would portray the lead villain.
Filming started on The Toxic Avenger in Bulgaria in August 2021 and would last five weeks. This would mean canceling some conventions that Elijah was scheduled to attend, and Dominic, Sean, and Billy each bowed out. The only one he could attend without the others was the Motor City Comic Con since it occurred after filming ended. But after two years of nixed appearances, the Ringers were becoming restless, yearning for an acknowledgment of the movie's special anniversary.
Elijah's food monster was let loose when he appeared on First We Feast's popular talk show, Hot Ones, which was recorded while he was in New York for Tribeca. He has been a long-time fan of the show and could barely contain his excitement as he consumed progressively intense spicy chicken wings. While devouring the entire morsels, Elijah tried to remain cognizant as he barreled through the heat to emerge as one of the best guests on the show. A few months later, he participated in another First We Feast program, The Burger Show, this time not indulging in spice but the delicacies of differently priced hamburgers.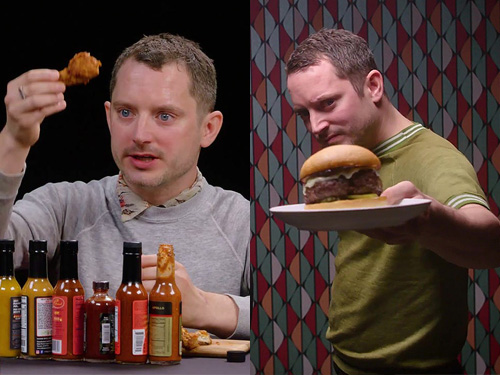 After its release in August, it was announced that Elijah joined the voicing cast of the video game, Psychonauts 2, developed by Double Fine, the same company that constructed his previous collaboration, Broken Age. The game was a success with fans of the franchise. It gained recognition for its narrative, animation, and technical achievements from Golden Joystick Awards, Game Developers Choice Awards, and the British Academy Games Awards.
It was also announced that SpectreVision signed a deal to reboot another horror classic. This time it would be the Brazilian horror character icon Coffin Joe. Plans were to make two versions in Spanish and English, with SpectreVision handling the latter adaptation and offering a more mainstream, accessible, and updated version while remaining true to the Coffin Joe fans.
While on a podcast in October 2021, Elijah mentioned that he was engaged. Thereafter, he and Metta-Marie exchanged vows after a six-year relationship and the birth of their son. Their second child, a daughter, was born in January 2022. Working in films since a child, Elijah is highly aware of the pitfalls and advantages that come with youth in Hollywood. It was beneficial in his career that his success was a steady climb. Their son already has his tiny feet wet in the movie industry, but not by appearing on screen. The proud parents list him in the special thanks of the closing credits in Come to Daddy, No Man of God, and Nowhere's award-winning indie movies, Nine Days and I Blame Society. For a long time, Elijah dreamed of the day that he would start a family. Elated to wear a ring that says "Dad," he spoke about parenthood and the early days of raising his son while teaching him to speak English and Danish. "It is all-consuming, and it's everything, but that includes the best things: hearing first words and watching your son take his first steps. It's all these incredible milestones, and we've just begun."
Becoming a parent didn't necessarily lead Elijah to reconnect with his father, but he felt it was necessary to acknowledge it after years of detachment. "As we get older, I think all of us have conversations with ourselves and with our past and reconcile where we came from and if there is anything in our past that needs to be addressed." When asked how his relationship with his father is currently, he said, "In communication, which is good. I mean, it's healthy. And I'm close with that side of my family for the first time in a really long time, which is great."
Because of Elijah's impeccable ethics, significant conflicts are few and far between, but that wasn't the case when he landed in a tumult of controversy. NFT (Non-fungible tokens), in its most elementary definition, is generally one-of-a-kind digital creations that are sold and bought and allow the buyer to own the original item. They can be in different forms, such as artworks, videos, gaming, and music, and the cost to purchase these works can be astronomical. According to Forbes, "Essentially, NFTs are like physical collector's items, only digital. So instead of getting an actual oil painting to hang on the wall, the buyer gets a digital file instead."
Elijah was absorbed in the NFT community and purchased some for himself. However, it was discovered that the series of NFTs were made by an illustrator who created racially derogatory cartoons in the 1970s. Completely unaware of the artist's background, Elijah sold those items, donated the funds to charities, including Black Lives Matter, and took to Twitter to denounce racism. The backlash from this discovery caused others to sell theirs, which caused the trading of those particular NFTs to drop significantly. After his genuine mistake surrounding the NTFs, Elijah was absolved, and his character remained intact.
As the end of 2021 approached, the National Film Registry, which names the movies that are deemed culturally, historically, or aesthetically significant by the Library of Congress, announced that The Lord of the Rings trilogy would be among those recommended for preservation because they reflect on who we are as a people and a nation. However, there was still no word if or when a 20th-anniversary celebration would occur. Because of the pandemic and trying to bring so many people who worked on the films together, Elijah voiced his thoughts on why it would not happen that way. "There's a lot of talk about a 20th-anniversary gathering, but I don't know if anything's quite come together. It's also difficult because of COVID. I don't know that we could even get to New Zealand. In fact, I'm almost sure we couldn't get to New Zealand. I suppose the one benefit is that we do have at least two more 20th anniversaries to celebrate, so that's kind of nice."
However, a first commemoration eventually occurred thanks to Middle Earth superfan and late-night talk show host Stephen Colbert. He and his band leader, Jon Batiste, along with several members of the cast, including Elijah, Dominic, Billy, Sean, Hugo Weaving, Orlando Bloom, Andy Serkis, Viggo Mortensen, and special guests, rappers Method Man, Killer Mike, and actress Anna Kendrick filmed a special music video; a satirical rap focusing on how the movies are the best trilogy of all times. Stephen aired the nearly four-minute song on his show on December 16th, three days shy of the anniversary of The Fellowship Of The Ring's release in 2001.
While the first quarter of 2022 was relatively uneventful, with Elijah most likely caring for his young family, announcements came that the conventions planned two years prior would finally happen. Labeled as The Hobbit Reunion Tour, Elijah, Billy, Sean, and Dominic would set foot in eleven cities across North America over eight months, beginning in April.
Tens of thousands of followers in Calgary, Orlando, Dallas, Denver, Chicago, Boston, Toronto, Portland, Oregon, Minneapolis, Los Angeles, and Pittsburgh would have the opportunity to be photographed with the quartet, solo or in pairs; Elijah and Sean or Billy and Dominic.
As mentioned before, Elijah is always game to strike a pose for anyone who asks. In pre-pandemic times, fan conventions were easygoing and free from the worry of contracting nothing more than a cold. Elijah was extremely accommodating toward attendees, who were filled with excitement when meeting him. Occasionally fans would interact with him, especially when taking photos, by being hugged, piggybacked, or even carried in their arms. Because of these affectionate exchanges, Elijah was labeled as one of the best celebrities to take a photo with. However, organizers had to change their policies during conventions.
In compliance with COVID-19 guidelines, plexiglass panels were situated between the group and their guests during photo ops and autograph sessions. Even with these precautions, the virus still managed to infect Elijah and Sean in the middle of touring. Because of the vaccine, their symptoms were relatively mild, and both recovered quickly in time for the next city stopover. During their last tour appearance in Pittsburgh and 28 months after the pandemic's height, the barriers came down, but close interactions were still discouraged. 
Discussion panels would take place in each city, bringing many insights into their bond during and after filming The Lord Of The Rings. While each gave their individual Q&A conversations diving into their personal work, the team entertained attendees with numerous games, skits, and fan participation when they were together, making for a unique live experience. The group occasionally had the chance to splinter off and join other celebrity guests they've previously worked with. Elijah reunited with Charlie Hunnam, Paula Abdul, and Lorraine Bracco for the first time since filming Radio Flyer in 1992.
Dominic was incredibly accommodating to fans by sharing photos on Instagram of the group enjoying their night out in each city at a local restaurant chosen by Elijah or himself. As Elijah expressed about their time together, "Prior to this year, the four of us being in one shared space, it's been maybe a decade, and it's not like we all haven't individually seen each other; we absolutely have, but not the four of us in one shared space. So this year has been an unprecedented, extraordinary year for us because almost every month, we were in another city and breaking bread and sharing stories."
They also took to mimicking another famous foursome, The Beatles. At the end of each tour stop, they would pose in the fashion of a famous Beatles photograph or album cover or commission an illustrator to recreate one. After their tour, the group, led by Elijah, devised a concept of a t-shirt designed in the manner of music tours that one could purchase, complete with a whimsical drawing and a list of participating cities.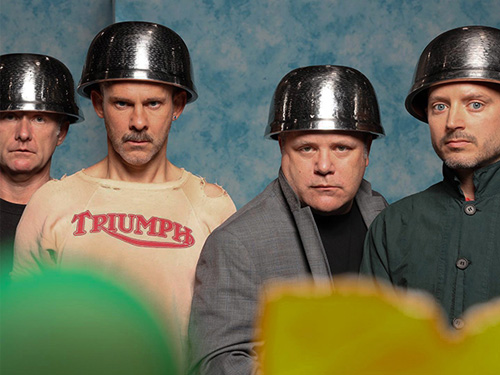 While on tour, Elijah took on a slightly different appearance. It was in Denver where people took notice that one of his signature traits literally departed. His toothy and inviting smile was suddenly missing the gap he'd had all his life. As much as his large blue eyes are part of his individuality, his wide grin is also conspicuous, gapped or not. Aside from visits to his dentist, during the months Elijah was traveling from city to city, he still managed to focus on the business for SpectreVision and land a role in an Emmy-nominated series. In July, SpectreVision made public that they were in the works to reboot the 1980s pop culture phenomenon Max Headroom as a drama series for the AMC network.
A few weeks later, entertainment news outlets reported that Elijah would have a season-long character arc on the critically acclaimed Showtime series, Yellowjackets for its second season. He has been a fan of the show and was thrilled to be a part of it. He would work closely with one of the show's actors, Christina Ricci, with whom he hasn't collaborated since The Ice Storm in 1997. "Most of my scenes, not to spoil anything, but a lot of my scenes this season have been with Elijah Wood, and it's wonderful working with him again," Ricci told Entertainment Weekly. The showrunners of Yellowjackets chimed in on Elijah's presence in the second season. "When Elijah agreed to come play on the Yellowjackets team, our minds were blown. We've been fans of his for years (in some of our cases, since middle school!) and are delighted to report that his incredible talent is matched only by his kindness, warmth, and enthusiasm for his work. We absolutely cannot wait for the world to meet Walter." As of now, it's yet to be known if he will share more screen time with another previous co-star, Melanie Lynskey. Shooting would begin in Vancouver in September, with the new season scheduled to air on Showtime in March 2023.
With names like Elijah's along with Lucy Liu, James McAvoy, Kelly Clarkson, and Oscar Isaac serving as voicing talents, the animated film, The Amazing World of Gumball: The Movie, which is based on the critically acclaimed television series, found itself in limbo. It was greenlit in 2021 and was set to be released in 2022. However, the movie would now see a 2023 release due to distribution companies switching hands.
Even though The Lord Of The Rings and The Hobbit trilogies collectively ended their 13-year theatrical releases in 2014, the tale was still a sought-after commodity due to the success of those movies. In 2017, the news was circulating that a television series based on J.R.R. Tolkien's work would see another conception after a multimillion-dollar deal was struck with Amazon. Lord Of The Rings: The Rings Of Power was planned to start filming in February 2020, but production was put on hold until September because of COVID-19.
Before the final title was given to the series, Elijah weighed in with his take on the name. "I am super fascinated by what they're doing with the show. They're calling it The Lord Of The Rings, but I think that's slightly misleading. From what I understand, the material they are working on exists chronologically further back in history in the lore of Lord Of The Rings or Middle Earth than any characters represented in Lord Of The Rings. It sounds more Silmarillion era. Not to get nerdy, but it's the Second Age of Middle Earth."
Harsh criticisms from some fans began immediately after the first production photos hit the internet that showed the casting of actors of color in the roles of hobbits, dwarves, and elves. There were mixed emotions after the trailer premiered. Some fans kept an open mind and were excited about the series, while others belittled it.
Because of the response raging over the casting, Elijah, Dominic, Billy, and Sean gave their support when they posed in specially designed apparel displaying the iconic pointy ears in different colors with "You Are All Welcome Here" inscribed in Elvish. Shirts, hoodies, mugs, and other items were available for purchase, with half the proceeds going to charity.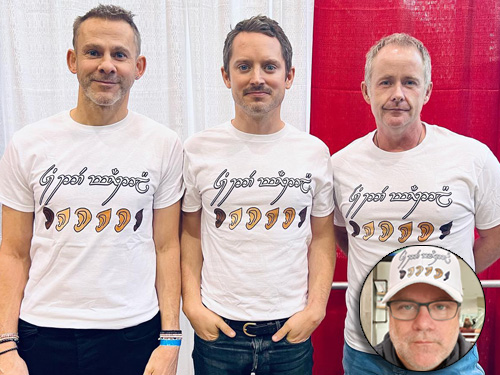 Hot on the heels of his latest acting venture in Yellowjackets, Elijah would be New Zealand bound once more to star in his 79th feature production and his third collaboration with director Ant Timpson. Bookworm was announced in October 2022 and would be different from any film Elijah has done. Unlike his turn as the son in Come to Daddy, Elijah will portray the father to his 12-year-old daughter in the comedy-adventure movie set to begin filming in February 2023.
In a fresh decennary full of hope, despair, challenges, decisions, prospects, futility, growth, and obstacles, Elijah will always strive to move onward and upward, thirsty for the following chapters. With several known projects in production, and one can only wait and see what's on the horizon, both personally and professionally, Always and Forever will be with Elijah every step of the way and deliver those chapters over time.
RESOURCES: The Apple Store, The Art of Elysium, Cinepse, Black Girl Nerds, Buena Vista Pictures, Collider, The Circular, Corduroy Magazine, David Frost Over the World, Deadline, Den of Geek, Dimension Films, Dominic Monaghan Instagram Live, Entertainment Weekly, Evening Standard, Forbes, The Guardian, High Times, The Hollywood Reporter, Huffington Post, IMDb, IMTA, IndieWire, Larry King Now, Late Night with Jimmy Fallon, Live Magazine, Looper, Loveland Reporter-Herald, Miller-McCune, Mirror UK, Mongrel Media, Movieline, The Movies That Made Me, MTV, Nerd HQ, New Line Cinema, The Observer, The One Ring.net, Orlando Sentinel, Paste Magazine, People Magazine, Prodigy, PTI, Reddit, The Review Geek, Roger Ebert.com, Salon, Screen Anarchy, SpectreVision, Starburst Magazine, The Sunday Times, Twitter, UPI, Vanity Fair, Variety, Veriti Film Magazine, The Vinyl Factory, Vimby, Voyage LA, We Got This Covered, WTF with Marc Maron, YouTube.

DISCLIAMER: The content of this unofficial biography is for general information and entertainment purposes only and is strictly non-profit. The information, images and videos provided by the various online and print resources listed are the property of the respective owners and no copyright infringement is intended. While we strive to keep the information correct, we make no representation or warranties of any kind, expressed or implied, about the completeness, accuracy, reliability or suitability. Neither Elijah Jordan Wood, nor his representation were associated with direct content or execution of this biography.