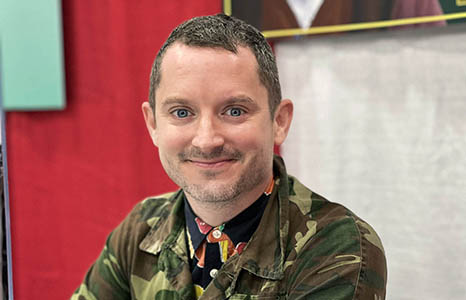 It's been a minute since Elijah participated at a convention, but he did so recently when he appeared at Motor City Comic Con this month. You can view photos, and photo of photos here. There's a video showing the activities and a portion of Elijah's Q&A, and one of Elijah's assistance in a proposal. Thanks to all that shared these gems.
No Man of God is now out on DVD and Blu-ray. This film rides high on my "must-see" Elijah films – well, of any film, and the positive accolades are still coming in from The Wrap, Horror DNA, and BluePrint Review which comments on the movie and the European version of the disc.
Elijah had a nice, long conversation with Dax Shepard and Monica Padman on their podcast, Armchair Expert, which you can listen to here. Check out some of the photos taken during his visit. [1] [2] [3] [4] [5] [6] [7] [8] [9]
The A24's Podcast played host to Elijah and The Green Knight's director, David Lowery, as they discuss the film among other things.
SpectreVision has their next project in sight. They will reboot the Brazilian iconic boogeyman, Coffin Joe. You can read more about the undertaking here.
Elijah has been nominated for a Golden Joystick Award, which recognizes achievements in the video gaming industry. He's up for Best Performer in Psychonauts 2, and the game itself has a total of four other nominations. Voting is open to all until November 5th.
Here's a photo from last month's special screening of Midnight Mass, Mike Flanagan's latest supernatural mini-series now on Netflix.
What would Halloween be without some pumpkins? [1] [2] [3] Elijah recently checked them out at Descanso Gardens' Carved event.
Well, this is about as random as it gets.
I hope you've had the chance to look around the new site and like what you see. More sections have been added or expanded and there are a few areas I'm still working out. As time goes by, these sections will be completed and the old site will slowly diminish, however will house the older content. It's all a work in progress, so hang in there.
That's all… for now. Happy Halloween!