"At some point in your life, if you're lucky, you get to design the way in which things evolve."
~Daniel Day-Lewis
While he shouldered the weight of The Lord of the Rings trilogy, Elijah turned 21 years old, thus evolving from former child actor to adult actor. Often, when child actors reach this age, the innocent charm that made them likable can fade. This can result in a loss of public interest causing their careers to fizzle out. Some move away from acting to pursue other vocations or transition from acting into different fields of the industry. Elijah is one of those former child actors who continues to work in show business. One factor that made his transition seamless was the trilogy and all the momentum behind it. Elijah's persistent devotion to his craft and his desire to engage in more challenging projects has sealed his place as a respectable adult actor.
As he turned 23 years old, Elijah spent the first part of 2004 heavily engaged in multiple appearances. There were television talk shows in America and Europe along with the premiere of The Return of the King in Japan. He attended the Golden Globes, Independent Spirit Awards, and the Oscars where the film dominated the ceremony. Elijah was asked and happily accepted the duties of King Bacchus in New Orleans' Mardi Gras parade in February which made him the youngest Bacchus King ever. There was the premiere of Eternal Sunshine of the Spotless Mind in Beverly Hills. A few days later he hosted MTV's music video program Total Request Live (TRL) in New York City. Elijah was featured on magazine covers from Time to Entertainment Weekly. In the middle of all this, he took the time to attend conventions and record voice-overs for animated shows and video games.
Even though Elijah was much in the public eye and constantly followed by the paparazzi, the incredible attention he received didn't deter him from going about his daily business. He is not one to frequent high-profile establishments that harbor Hollywood's hottest celebrities nor is he often seen rubbing elbows with them unless it pertains to his work. This subdued conduct kept him from being an easy target for the gossip rags. He continued to live in the cozy guesthouse at his mother's home until 2004 when he bought his own small house in Venice Beach, where he lived for the next decade.
A meager home for a single, successful young actor of Elijah's status is nearly unheard of. Frivolous self-indulgence is not his style; he doesn't own numerous sports cars, a wardrobe full of designer clothing, or a chest of expensive jewelry. He's regularly seen in the same clothes event after event; often driving himself or even flying economy class. The only things Elijah seems to splurge his earnings on is good food, photography, music, and quality equipment to play it on.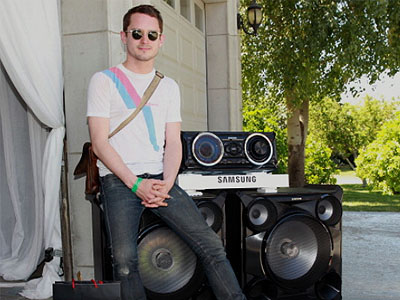 Where his craft was concerned, Elijah didn't want to do another blockbuster project. But more than that, he didn't let the success of The Lord of the Rings define him or his work to become pigeonholed in future films. He was attracted to the close-knit atmosphere of independent movies and that's where his interests went. He completed work on the indies, Ash Wednesday, All I Want and Eternal Sunshine of the Spotless Mind, and in April of 2004 Elijah travelled to London to film Green Street Hooligans/The Yank (2005). The movie follows a Harvard journalism student unjustly expelled from the university who visits his sister in England where he becomes embroiled in the world of football (soccer) hooliganism. Elijah may have seemed like improbable casting as a hooligan but, as critic Roger Ebert wrote, "The movie's point is that someone like this nerdy Harvard boy might be transformed in a fairly short time into a bloodthirsty gang fighter. The message is that violence is hard-wired into men."
Soon after filming was completed, Elijah worked on the stark black and white film noir Sin City (2005), once again with Robert Rodriguez. This was an interesting turn in roles for Elijah. Unlike his other soft-spoken, good-natured characters, he portrayed the mute cannibal serial killer, Kevin. As a big fan of writer Frank Miller's graphic novels, Elijah jumped at the chance to be a part of the film. "I guess I'm intrigued and attracted to darker roles because it's not something that I often have the opportunity to do." Elijah conveyed in a 2013 interview. "They're also so different from who I am as a person, and I think exploring something that is less relatable is interesting as an actor."
His audition for Sin City was unconventional as it consisted of him just sitting quietly and staring. Rodriguez explained, "Elijah said this was his easiest audition ever. I had him come and sit in a hotel room and I told him to bring some funky glasses. So I just filmed a close-up of him slightly smiling while I read Mickey's [Rourke] lines off-camera. I sent that off to Frank Miller and he was completely creeped out by it and he thought we got our Kevin. Elijah is just so great with his eyes."
While the movie features several well-known actors, Elijah didn't physically work with any of them. His two days of filming Sin City were spent alone in front of a green screen performing on wires. The movie was a hit and Elijah left a chilling impression as Kevin, dispelling some concerns he would be typecast after The Lord of the Rings.
In June 2004, Elijah went to Prague to film his 32nd movie, the bittersweet Everything Is Illuminated, released in 2005. This was actor Liev Schreiber's directorial debut; he also wrote the screenplay which is partly based on the novel of the same name. Elijah portrayed Jonathan Safran Foer, the author of the book who tours Ukraine in hopes to find the woman who helped save his grandfather from the Nazi invasion. Co-star Eugene Hutz, front man of the gypsy-punk band Gogol Bordello received high marks in his film debut. But it was the veteran Elijah who balanced out the movie, displaying his talent for subtlety.
Schreiber said there is something about whom Elijah is, that he has a generosity of spirit and sincere goodness as a human being that came across on film. Schreiber said that the eyes are important when trying to articulate a character who is an observer and that "if eyes are the doors to the soul, Elijah's are garage doors." The combination of the actors and the compelling story of Everything Is Illuminated made for a successful run on the film festival circuit. As time passed, more people found this little gem and it went on to win several awards from the likes of the Venice Film Festival and the National Board of Review.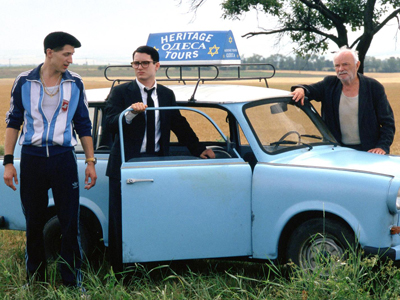 While working on Everything Is Illuminated, Elijah met Pamela Racine, a dancer and percussionist for Gogol Bordello who briefly appeared in the film. Although Elijah prefers to keep his private life away from the public, it wasn't long before he and Pamela were spotted in the scrutinized lens of the paparazzi, but more officially at premieres and events. The couple remained together for several years.
Elijah has been a part of the video gaming world for years. Not only is he an avid gamer, he's also a part of them. He did voice work on all versions of The Lord of the Rings games and in May 2005 he hosted the launch party for a new console, Xbox 360, in a television special on MTV.
Since childhood, music has always played an important part in Elijah's life. With such a strong love of music, one would expect him to partake in playing instruments. While he owns a Fender Rhodes piano, a drum set, a Theremin, and a substantial guitar collection, the conundrum is that Elijah confesses he's not apt at playing any of them. "I feel very musical without actually knowing how to play anything." What he does play, he's self-taught, and outside of taking piano when he was younger, he admits he should take real lessons.
His mother, Debra and brother, Zach helped influence his love of various musical styles and as he approached adulthood, he expanded on his passion. He began to deejay more often, sometimes as a guest on several radio stations. When iTunes approached him in 2005, he curated a list of songs where the proceeds would go to charity. But he felt the need to do even more. He pondered the idea of a radio or television show on music but what he ultimately decided on was to establish a record label. In September 2005 Elijah officially announced Simian Records.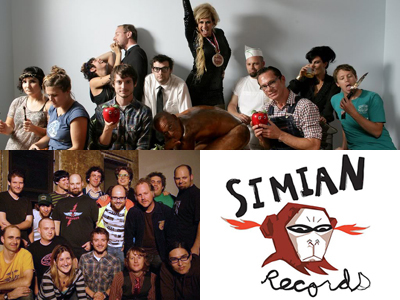 Simian, based on his "Monkey" nickname allowed Elijah to showcase bands that he believed in and to help bring their music to a wider audience. Simian was also metaphorical for Elijah; to symbolize the diverse works the label aimed to deliver. He was influenced by Emperor Norton Records whose roster was a mixed bag of groups, much like Elijah wanted for his label. As an imprint of Yep Roc Records, he managed the label from his home without employees. The first group signed was the psychedelic-pop band The Apples In Stereo whom he had met at the South by Southwest music festival in Austin, Texas a few years earlier.
Now that his interests had shifted to his record label and with film offers that still came in, Elijah seemed to put starring roles aside for ensemble pieces. First was Sin City, then in 2006, he appeared in two more. In Paris, je t'aime, an anthology film that consisted of 18 short tales, Elijah portrayed a traveler in Paris who becomes entranced by a vampire. Next came Bobby, with an all-star cast recounting the day of Senator Bobby Kennedy's assassination in 1968. Elijah's storyline of a young man going blindly into marriage to avoid the draft was one of the stronger plots. Bobby was up for Best Picture at the Golden Globes and the entire cast was nominated for a Screen Actors Guild Award.
Elijah worked in another movie titled Day Zero in 2006. This modern-day film focused on three friends who faced the realities of war and the reinstatement of the military draft. Elijah went full method as Aaron Feller when he had his hair shaved on camera in preparation for combat. The movie had a limited release in theaters but enjoyed a run at various film festivals in North America and Europe.
Both he and Sean Astin, who was King Bacchus a year after Elijah, returned to Mardi Gras in February to ride the Returning King's float and in March he was seen in a commercial for Intel Laptops. He traveled back to the Cannes Film Festival in May to help promote Paris, je t'aime. Elijah and girlfriend Pamela attended the festival together but some news outlets reported her as an "unidentified friend" because of their success of remaining under the radar.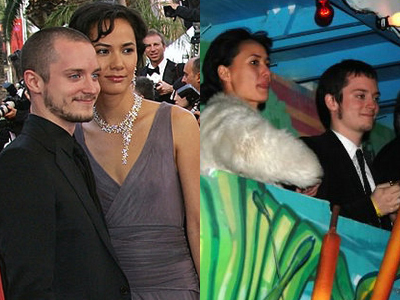 Being a former child actor, Elijah led an energetic and carefree life. He's naturally aware of the struggles of children and is sympathetic to those who don't have the freedom to live as children because of an illness. Elijah's philanthropy began with children's charities such as The Sunshine Kids, BOOKPals and The Starlight Children's Foundation.
In 2006 he joined the campaign I Am Africa for the Keep A Child Alive charity. ALDO Fight for Aids, Make a Film Foundation, and TOMS Shoes, among other civil, political, and environmental causes were supported by Elijah. His biggest commitment is to The Art of Elysium that therapeutically helps children deal with their ailments by concentrating on creating art. He also served on the committee of "Elysium Sessions," an artist services program that recruits and supports volunteer musicians to share their talent and inspiration with hospitalized children. "I think what's great about what the charity does is that it takes kids out of the context of being in a hospital." Elijah spoke about Art of Elysium. "That's what's beautiful about it. Suddenly they're invested in something else, and it's creative and it's fun and they challenge themselves sometimes with these projects and I think that's what's wonderful about it."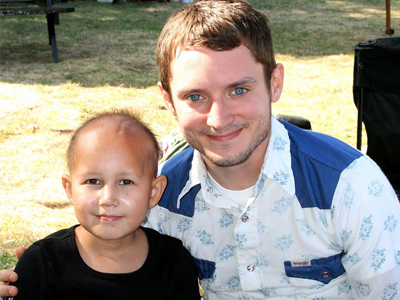 Elijah went a step further and combined his craft with a cause. In December 2006, the animated feature Happy Feet was released in theaters. It focused not only on music but also on the environment. Elijah voiced the main character, an outcast tap-dancing Emperor penguin named Mumble who journeyed to find the cause of his colony's food supply shortage. By mixing popular songs with true-to-life animation, the film was a worldwide success and earned the Oscar for Best Animated Feature. Elijah worked with Brittany Murphy, Hugh Jackman, Nicole Kidman, and multi-talented Robin Williams on the film but it was not his first encounter with Williams or his last. Elijah recalled, "Working on Avalon was the first time that I met Robin Williams. Robin was friends with Barry Levinson [director of Avalon] because Barry had directed Good Morning Vietnam. And it was nighttime and I was outside and this man came up to me and introduced himself and said, 'Hello, I'm Robin.' and I'm shaking his hand, I could barely see him and realized as I'm shaking his hand that it's Robin Williams. And I say 'Williams?' freaking out."
Just after the start of 2007, Simian Records' premiere CD release was also the first for The Apples In Stereo for the label. New Magnetic Wonder was the band's first collection of songs in five years. It became a critical success with Rolling Stone magazine naming the compilation the best of 2007. Several of The Apple's tracks were featured in television commercials. The video for one of those songs, Energy was directed by Elijah himself, which is something that he always desired to do.
Following the success of Happy Feet, Elijah was a fitting host for a program on Discovery Kids Channel called Saving a Species: The Great Penguin Rescue in the spring of 2007. The special educated viewers on a devastating oil spill off the coast of South Africa. The disaster threatened thousands of flightless birds and it showed efforts that were made to help them. Elijah was nominated for a Daytime Emmy Award for Outstanding Performer in a Children's Special. Though he didn't win, the half-hour documentary won the Emmy for Outstanding Children's Special.
Elijah remained busy for the duration of 2007. He went to Chile to help launch the opening of a fashion museum and was the first celebrity guest on the children's television program Yo Gabba Gabba. He started work on the mathematical murder mystery, The Oxford Murders, in London. It was the first time he worked with veteran British actor John Hurt as well as filming his first lovemaking scene which had him at odds. "I'd never had a sex scene in a film, so it was new ground for me. I was lucky to be working with Leonor [Watling] because we had a lot of trust in one another. But it was this weird feeling of wanting to be really respectful and yet really wanting to see her naked and not knowing how to reconcile that. The respect for her won out, eventually."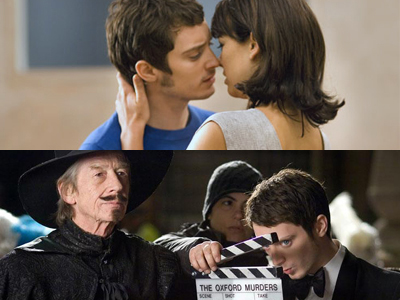 Also in 2007, Elijah was set to star in a biopic of iconic punk rocker Iggy Pop, tentatively titled The Passenger. The flamboyant lead singer of The Stooges gave his approval on the film and commented, "The script ain't chopped liver… It was a work of art. But subjectively, I don't want to be involved in any way." Elijah was enthusiastic as well as being daunted about the film and said, "The idea of playing Iggy Pop is really scary, to be honest. Ultimately it's the experiences that scare us in life that are the most important. It's those experiences that allow us to grow." However, the project went through difficulties, such as Pop not being ready for a biopic of himself. Elijah explained another reason the film never progressed. "It's one of those things, it was really honestly like, all a part of the difficulty of getting a movie financed and we had financing at one stage and it fell through."
Even though Elijah didn't become a musical legend on screen, he was laying grounds with his record label. In October 2007 Elijah signed the disco-punk-rock group Heloise and the Savoir Faire. Six months later he showcased the band on the British variety program Friday Night Project which he guest-hosted on April 11, 2008. Elijah met Heloise through Pamela years earlier, instantly fell for her exuberant personality and they became friends. Even after Simian made a name for itself, Elijah was reluctant to ask the band to become a part of the roster. He overcame his hesitancy, signed them on, and their first album on Simian, Trash, Rats and Microphones was released in 2008.
To paraphrase The War, Elijah kept himself busier than a one-legged man in a butt-kickin' contest. Over the next two years, he remained as occupied as ever. Elijah continued to deejay either solo or with his partner Zack Cowie, and tirelessly worked with The Art of Elysium's various benefits and functions. He attended festivals, conventions and was seen at several fashion shows, most likely through the invitation of Pamela who was a former model. He became the voice of Spyro; a popular video game and appeared in Greg Laswell's music video, How The Day Sounds. Elijah popped up in a humorous Lonely Island music video on Saturday Night Live and returned to Chile to engage in a new exhibition at the fashion museum he helped to open. He took part in the 24 Hours Plays in New York City where actors perform on stage from scripts produced in a single day.
"I'm walking in completely oblivious to how dangerous it could potentially be." Elijah explained as he appeared on Jack Osborne's reality TV show Adrenaline Junkies in September 2008. Elijah was gung-ho for the adventure and claimed, "Whatever happens, happens." For a week, the two daredevils ventured about Zambia, Africa into dangerous territories. They plunged into a massive 100 meter (328 ft.) canyon swing twice, rafted for three days down the Zambezi River where their craft overturned from violent waters and traversed Victoria Falls. Though it's not certified in the Guinness Book of World Records, Elijah became the first person to cross the 130 meter (426 ft.) falls by rope.
Along with actress Evan Rachel Wood, Elijah was honored in April 2009 at the San Francisco Film Festival Midnight Awards. It credits his outstanding contributions to independent and Hollywood films with his intelligence, talent, and depth of character. On September 9, 2009, the animated post-apocalyptic film 9 was released in theaters and landed in the number two slot for the weekend. Elijah voiced the main character 9, one of as many stitch punk ragdolls on a quest to learn what happened to our world. The film was based on director Shane Acker's Oscar-nominated short film of the same name and received several nominations for Best Animated Feature.
A week later Elijah was in the heart of the financial district of the New York Stock Exchange to ring the day's opening bell. One of the last things he did to close out a busy six-year period was to co-star in the romantic comedy, aptly named The Romantics.

Elijah had his finger on the pulse of Hollywood and built himself a tenable career post The Lord of the Rings. This period was not so much about reinventing himself but of showing that he picked his projects based on several grounds. The script and directors played a part in his choices, but most of all Elijah concentrated on doing projects and films he had a gut reaction to. He chose his roles, not for the paycheck or upping his celebrity clout. He accepted those that would challenge him as an actor whether in a starring role, a supporting one or voice work as long as he could help to realize the filmmaker's vision. What he selected put Elijah at the top of Miller-McCune's most critically acclaimed actors for the decade over actors like Jack Nicholson, Kate Winslet, and Tom Hanks.
Elijah reveled in this multifarious period when opportunities were plentiful. From movies and music to a new home, new love, and everything between, he led a diverse life. All the while he miraculously stayed low-key and remained unaffected by fame. But was all his hard work and recognition soon to be something he was not satisfied with?