"The good life is a process, not a state of being. It's a direction, not a destination."
~Carl Rogers
The goal of The Woodshed is to operate as a production company that exclusively caters to horror filmmaking but not the cliched ideas of horror movies. Their manifesto states that it wants to "tell heartfelt, character-driven stories tackling real emotional and social issues that test the boundaries of the genre space." After The Woodshed's inception, the partners spent two years developing projects to begin their lineup. They aim to give writers and directors with a unique perspective the opportunity to work with complete artistic freedom. As Creative Director, Elijah oversees the identity and vision of the company.
Toad Road, a horror thriller that Elijah saw at the Nightmare City Film Festival became the first production The Woodshed attached itself to. It received respectable reviews, but their second production, A Girl Walks Home Alone at Night, put the company on the map. The movie helmed by first-time director Anna Lily Amirpour is an Iranian vampire western love story shot in black and white with dialogue in Farsi.
Elijah said of the film, "All of these elements were maybe things that would have scared other people looking to invest in something from a commercial standpoint, but for us, it was absolutely everything that we wanted to be a part of." A Girl Walks Home Alone at Night made its debut at the 2014 Sundance Film Festival. It earned great reviews, several awards and was the recipient of close to 30 nominations from film festivals throughout the world along with three Independent Spirit Award nods.
Late in 2012, The Woodshed fell upon a copyright infringement issue. They had to abandon their original name and it was soon rebranded as SpectreVision. Open Windows was also produced by SpectreVision but producing films that Elijah would act in is not his or the company's objective. SpectreVision looks far and wide for films to produce with a distinct vision. Some scripts come by word of mouth. Some come from friends of friends and others come through social media. Any outlet is viable to help bring unconventional originality in storytelling
Now serving as a producer in films and music, Elijah helped to wrap up Diamond Dust, Heloise and the Savoir Faire's second CD on Simian Records released in March 2013. However, this would be his last endeavor with Simian, stating that it was a fun time and a grand experiment into something he wanted to accomplish.
In March, filming began on the third season of Wilfred. A month later, The Tribeca Film Festival screened the short film Setup, Punch. In the movie, Elijah portrayed a stand-up comedian who performs the most daring set of his life. To prepare, Elijah carried out a comedy routine at the Improv in L.A. and as he recalled before he took the stage, "It felt like I was about to jump out of a plane." Notwithstanding his fear, his real-life performance went miraculously well and his experience made for a convincing and hilarious performance on screen. Three other minor projects were released in 2013. Elijah has never been seen as detestable as he was in the twisted three-story tale, Pawn Shop Chronicles. He had a few lines dubbing English for the Annie Award-winning, Japanese film The Wind Rises and voiced the main character in an animated TV pilot which aired in the UK named Peter Panzerfaust, based on a comic book series.
But a large part of 2013 was spent promoting his films Maniac and Grand Piano which took him from Moscow and Madrid to Los Angeles and New York City. With such a schedule, Elijah would still take the time to attend two of his favorite festivals, South by Southwest and Fantastic Fest both in Austin, Texas. Fantastic Fest held at the Alamo Drafthouse, arguably one of his favorite places, is where Elijah has met filmmakers he's worked with and has the opportunity to scout out projects. The laid-back atmosphere of the week-long festival allows for easy mingling between filmmakers and movie fans without velvet ropes separating them.
Because he felt like he belonged, Elijah became a resident of Austin. After his first time there making The Faculty, he became a regular visitor. For a time, his brother Zach lived in Austin and Elijah made many friends there. He came to love the city for its small-town atmosphere combined with the amenities of a big city. Major attractions for him are the vibrant art community, an infectious music scene, and the excellent restaurants, important for a foodie and music lover like Elijah. As his work for SpectreVision is centered in Los Angeles, he still resides there, too.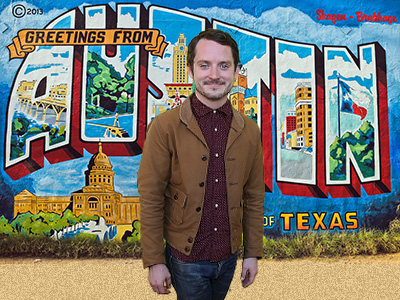 One of the best things Elijah enjoys about traveling is the food. While visiting exotic and urban communities, he indulges in local cuisines. He will research restaurants from Japan to France seeking the best to try. In his travels, he's dived into a cumin-infused intestine sandwich in Istanbul and had one of the best hamburgers of his life in Barcelona.
However, Elijah doesn't have to cross oceans to enjoy good dining. New York City, Charleston, South Carolina, Chicago, and of course Austin are places where the culinary is divine. At home, he smokes his own brisket, bakes Neapolitan-style pizza and Cassoulet is one of the best dishes he's made. Elijah's choice venues to conduct interviews is at local restaurants, he's judged a cooking contest for the TV show Knife Fight, accepted an invite through social media to sample sushi, and won a MoonPie eating contest. At one point he considered starting a pie restaurant and was one of the hundreds on hand to help keep a favorite L.A. taco stand open. Elijah usually snacks on nuts or trail mix, leaving regular meals to entice his discerning palate.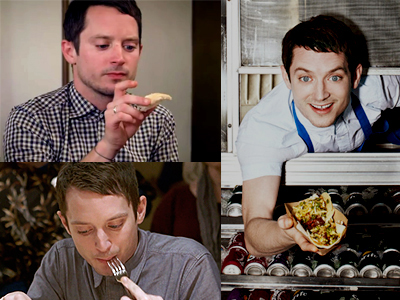 In October 2013, it was announced that Wilfred would have one more season which would be its last. The concluding 10 episodes of season four to be aired on sister network FXX, would finally give diehard viewers the answers they'd been seeking for three years. After he said the show gave him job security, Elijah explained, "I don't know that we can believe Wilfred for 10 seasons. To the fairness of the structure of the show, I think it can only survive for so long. I would hate to make the show carry on for too long and not have it necessarily support what we've created." But Wilfred has continued to gain more viewers discovering the offbeat dark dramedy through avenues such as Hulu and Netflix. When asked if there would be another incarnation of Wilfred, creator and bearer of the dog suit Jason Gann replied, "Never say never."
After Elijah's agent Nicole David left William Morris, he signed on with Brian DePersia who helped procure future projects for Elijah. With the one-two punch of his agent and manager, the script for Set Fire to the Stars was dropped in his lap. After reading the script in November 2013, filming started in Wales in January 2014 and was wrapped 18 days later. A year after that, the movie was making its way around film festivals. The semi-biographical drama is set in the 1950s when the famous Welsh poet Dylan Thomas (played by Celyn Jones) visited America. With much turmoil, he was shepherded around Academia by the American poet, professor, and critic John Malcolm Brinnin played by Elijah. It's essentially a two-hander and the onscreen "love-hate" chemistry between the actors is fascinating to watch. Elijah had such a strong connection with the film, he took on co-producer duties, but on his own, not as a part of SpectreVision.
Celyn, who also served as co-writer on Set Fire to the Stars said of the script, "Halfway through the writing process we thought 'Wouldn't Elijah Wood be an amazing John Brinnin.' And so we finished the script with our John looking like Elijah Wood." When Elijah sought out biographical information on John Brinnin, his research turned up empty as there's not much written about the poet. This however was a sign the man was private and thus gave Elijah his guidance on how to approach the character. This beautiful melodious black and white film was nominated for seven BAFTA-CYMRU Awards including Best Feature, taking home the prize for Best Hair and Makeup.
Elijah voiced teenage boys going through the difficult phase of growing up in two animated projects. First, there was Broken Age (2014-2015), the point-and-click adventure video game where Elijah voiced Shay. The game was well-received, and Elijah won Best Voice Actor for Shay from the National Academy of Video Game Trade Reviewers in 2015. Second, an animated short film entitled Tome of the Unknown that made the rounds at film festivals in 2013 was developed into a miniseries for Cartoon Network and retitled Over the Garden Wall. Reprising his role from the short film, Elijah voices the cynical teenager Wirt, who with his half-brother Greg travel through a strange and mysterious forest trying to find the way home. The 10 episode, 11-minute program that aired for a week in November 2014 was the first miniseries for Cartoon Network. It was met with rave reviews from its dark yet funny storytelling to the stunning animation and music. Over the Garden Wall was nominated for two Annie Awards and won two Emmy Awards for Outstanding Animated Program and Outstanding Animation. It has become a go-to viewing experience for many during the Halloween and fall season.
Elijah's next project could be called "home-grown." SpectreVision's Josh Waller had an idea of a horror film where a food-born virus would turn children into savages and the name would be Cooties. He communicated his brainchild to the other partners who loved the premise, and the idea was given to Insidious and Saw writer Leigh Whannell who wanted to pen the story. However, Josh, Daniel, and Elijah went in with the notion the film would be dramatic, but with its campy title, Leigh suggested it's obviously a comedy and they agreed. Ian Brennan, writer on the television show Glee was also brought on board and the two writers were the perfect ingredients the horror-comedy needed.
This genre of filmmaking is notoriously difficult to pull off but Cooties managed to find the right balance between horror and comedy. As the main character of Clint Hadson was written, the partners felt that Elijah would be great for the part. But Elijah was reluctant to be in the movie, wanting his work as an actor and as a producer to remain separate. After an intervention session with Elijah who constantly resisted acting in Cooties, he was finally persuaded to play the role of Clint because he loved the script and filming began in the summer of 2013.
Improvisational actors Rainn Wilson, Jack McBrayer, Nasim Pedrad, and Alison Pill were signed on for the ensemble cast along with writers Whannel and Brennen who all had great fun working together. In the DVD extras, the group of actors spontaneously erupted into impromptu praise for Elijah. "He lives in a world without pain or fear." said Whannell. "Also he heals the sick with his eyes." Wilson playfully added. When Cooties was screened at The Sundance Film Festival in 2014, the movie was picked up by Lionsgate Entertainment. This gave the writers extra funds to tweak the ending which left it ambiguous for the possibility of a sequel which all involved would love to do regardless of mixed reviews.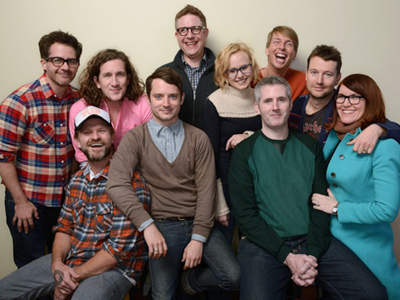 The Stanley Hotel in Colorado was the inspiration behind the horror novel and film classic The Shining. It also hosted the Stanley Film Festival which has showcased independent horror movies since 2013. New Orleans is now the home of the event with a new name, The Overlook Festival. Many of SpectreVision's films have screened there, so it was appropriate that the partners, along with actor/producer Simon Peg and filmmakers George A. Romero and Mick Garris lobbied to raise funds in support of building an expansive horror-themed museum on the premises in Colorado. With its reputation for paranormal activities, The Stanley Hotel which opened in 1909 and is on the national register of historical places, received the green light from the state to commence with the project which was slated to open by 2018. However, through numerous setbacks, construction on the museum didn't being until the spring of 2021.
With a handful of films at various stages of production in their catalog, SpectreVision was honored in 2014 with the Visionary Award at The Stanley Film Festival for their contribution to independent film. Titles such as LFO: The Movie, Curse the Darkness, Bad Vibes, Belladonna of Sadness, The Greasy Strangler and The Boy are all products of SpectreVision with the latter, The Boy having the most creative premise. The film takes an intimate look at a young child's fascination with death. The Boy is planned as the first part of a trilogy with each film following the child as he grows darker through the years. Jared Breeze who portrays "the boy" went on to win the Best Young Artist Award rivaling Elijah who won the same award in 1993.
SpectreVision, in partnership with Cinefamily, started Spectrefest, a two-week celebration of horror films in L.A. that developed into a two-month marathon of film, music, art, and theater events. In the five years since its inception, SpectreVision has expanded its focus, with new and exciting forays into the worlds of music, television, gaming, and digital media. In January 2016, SpectreVision announced a new partnership with gaming giant Ubisoft, to create, develop and produce original content for their virtual reality platform. Of the VR video gaming world, Elijah narrated for the adorable hedgehog, Henry, for Oculus Rift, which won an Emmy for Original Interactive Program.
The production company also sealed a deal with MarVista to develop four genre films over the next two years. Of their music division clients, the late Johann Johnnsson scored big with his impressive compositions on The Theory of Everything (2014), Sicario (2015), and Arrival (2016). His music has been nominated for numerous awards including Oscars, BAFTAs, and Golden Globes, taking home the Globe for The Theory of Everything. With their growing success, the founding partners decided to assemble a staff to help manage the company. What began with three men and a love of horror films now involve eleven people. They include CEO Lisa Whalen, music division manager, Tom Husom, and Elijah's sister Hannah acting as operations manager.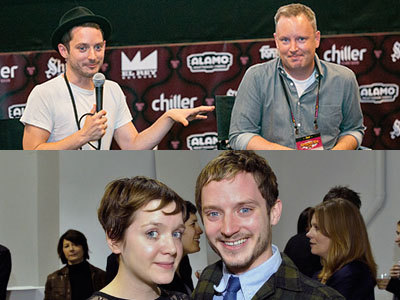 Of the Wood clan, Elijah isn't the only sibling in entertainment. While Hannah was briefly seen in Radio Flyer and The Two Towers, she didn't want to become an actress. She created a line of lip balm called Blabbermouth, hosted a bi-weekly art event in L.A., and is now a member of SpectreVision. Like Elijah, Zach started modeling and acting in Iowa but his interests turned after leaving college. He became an executive video game producer, formerly for Midway, and eventually senior producer with Sony.
Film acting and movie production is a difficult juggling act but Elijah embraces each aspect with vigor and determination. While working out new deals and projects for SpectreVision, he went to work on two films. The fantasy action movie, The Last Witch Hunter began filming in September 2014 in Pittsburgh, and a month after it wrapped, he was in Las Vegas filming The Trust in January 2015. In a supporting role, Elijah portrays a priest assisting an immortal played by Vin Diesel in The Last Witch Hunter. The film generated mostly disappointing reviews, some saying that Elijah's talents were wasted. Even though it was set in wide release, it quickly vanished from theaters. Lionsgate Entertainment had intended to develop The Last Witch Hunter as a franchise well before the movie's release. However, due to the tepid box office performance, that prospect seems uncertain.
Elijah bounced back in the indie heist thriller, The Trust alongside Nicolas Cage. In this character-driven film, Elijah and Nicolas play a couple of corrupt Las Vegas cops planning to rob the vault of a drug dealer. One deciding motive for Elijah to accept this role was that he got to work opposite Cage, one of his favorite actors. Elijah's enthusiasm was expressed in numerous interviews he gave at the South by Southwest Film Festival where the movie debuted. The Trust starts as a comedy but the increasingly dark tones give it an edge. Unanimous critiques of the film are how convincingly Elijah and Nicolas play off each other. "Both give amazing performances taking their characters through a transformation from one extreme to the other on the slippery slope from cops to criminals whilst remaining believable and engaging throughout." Many viewers have expressed they would like the unexpected duo to work together again.
In April 2016 Elijah went to Portland Oregon to shoot a low-key crime drama that was yet to be titled. Just prior, in March it was announced that Elijah would make a return to television to take on a leading role in the BBC America series Dirk Gently's Holistic Detective Agency. The eight-episode, hour-long program shot in Vancouver had an October 2016 air date. The script, written by Max Landis, is based on British author Douglas Adams' novels, which have been described as "a good detective-ghost-horror-who-dunnit-time travel-romantic-musical-comedy-epic." That sounds even more bizarre than Wilfred, right in Elijah's wheelhouse.
Speaking at the 2016 San Diego Comic Con, Landis' definition of his adaptation of Dirk Gently is just as complicated. However, his explanation of how Elijah succeeds in giving validity to his character Todd Brotzman is crystal clear. "Elijah's style of acting is so compelling because he gives an inner world and a secondary meaning to almost everything a character says. Frodo Baggins is a thin character. Kevin in Sin City is not a character, and then you give it to Elijah and Elijah brings that person to life and gives that person credibility. You're going to find out stuff about Todd that you don't like, but you still need to like him. He's the perfect actor."
Looking at Elijah's roles over the decades, one is struck by his versatility as an actor. His talent for drama has been recognized ever since he was a child actor but his flair for comedy has long been underappreciated. Over the last few years, his appetite for doing new things and challenging himself has made him accept more comedic roles. And he has shown himself to be as adept at comedy as drama. As one critic wrote about his work in The Trust: "Elijah Wood's deadpan is second-to-none, as anyone who watched Wilfred can tell you. Wood remains a terrific actor to watch react, to watch think."
Those who speak to the press run the risk of their words being distorted and Elijah is no exception. At times the media has gone so far as to invent their own story. When Elijah visited India for the first time in 2015 as part of Wooden Wisdom, it was farcical what was reported by their journalists. They stated the DJing team would travel with an entourage of bodyguards, chefs, wardrobe managers, and a fleet of cars at their disposal. Nothing could be further from the truth. There have been other times where a harmless gesture or a simple statement is taken out of context thus turning something straightforward into controversy.
Nothing speaks of this more than when Elijah gave an interview on his film, The Trust in May 2016 but the story turned into something entirely different. During the interview, he made a brief comment on pedophiles in Hollywood that came based on a documentary he had just watched about the issue. But the writer turned his short remark into clickbait which became a trending topic over the internet making it appear he knew of the problem but never spoke about it. Elijah went to Twitter to clarify what he said in the interview. "Lesson learned," he concluded. A good thing came from all this. The problem was brought to the forefront again and Elijah was commended on his observation.
All through his career Elijah has lent his talent to commercials and he continues to do so. He became a well-dressed but rebellious executive in Paper Plane, a stylish advertisement for Mr. Porter men's retail clothing (2013), appeared in the short film This Must Be The Only Fantasy for his friend's fashion house Rodarte (2013), and made several clips for Toyota Japan (2014). Memorable are the series of campy advertisement clips he did for The Bunny Museum (2010-2011). Other than appearing on marquees for his movies, Elijah has been spread across building facades and city billboards for endorsements and public awareness. He's soared high above urban streets for GAP Jeans, Bushmills Irish Whiskey and for a YouthAIDS/ALDO campaign. To celebrate the release of the final installment of The Hobbit films in 2014, Air New Zealand made a comical safety video. Among other informative, yet amusing in-fight instructions, it shows Elijah sharing a flight to New Zealand/Middle Earth with a couple of overly enthusiastic Lord of the Rings fans.
Being on set, shooting a scene, is only a small part of an actor's work. Promoting films, interacting with fans and keeping up to date with the (indie) film scene are just as important. Elijah has said he doesn't dislike this part of his work, as it just goes with the job. Elijah is a sought-after celebrity for conventions, not only because of his fame as Frodo but also because of his charisma, wit and enthusiasm interacting with fans. His discussion panels are well worth attending. He always has something interesting to say, be it about his own experiences as an actor, the state of the modern film industry, or his favorite subject, horror films. Memorable Q&A sessions were at the Ringling College of Art and Design in Sarasota, Florida (2012), the Hero Hang Out at the Edinburgh International Film Festival (2014) and the Nerdist Q&A at the San Diego Comic Con (2015), to mention just a few. Elijah also served on judge's panels at Tropfest Short Film Festival in Sydney Australia (2010), Topanga Film Festival in Topanga Canyon, California (2011), and of course Fantastic Fest.
As an actor and producer, Elijah finds making films with colleagues highly enjoyable and rewarding. It appears that Fantastic Fest is his Garden of Eden. Not just for viewing amazing genre films, but connecting with the filmmakers of them. A chance meeting, a handshake, and a conversation will not only lead him to put his foot in the door, it's kicked wide open.