"Try not to become a man of success but rather try to become a man of value."
~Albert Einstein
Elijah's early career started when, in 1989, he scored a small speaking role in the second installment of the successful movie franchise Back to the Future. He recalled being mind-blown to be on a set of a film he saw before he started acting, though he wasn't anxious or nervous about being there as it just made sense to him. He also had a small part in the movie Internal Affairs in 1990. That same year Elijah was seen in his first co-leading role in the television movie Child in the Night alongside Tom Skerritt and JoBeth Williams.
The element that made some of Elijah's early work in films stand out was that they pertained to adult themes. He could easily have slid into roles that were typical for a prepubescent actor but Elijah's instinct made him perfect for parts in mature films that needed children. In fact, the "R" rated Internal Affairs wasn't seen by Elijah until he was an adult.
In Avalon, his third film in 1990, Elijah won his role of Michael Kaye over other extensive auditionees. The character is closely based on the childhood of director Barry Levinson in his series of Baltimore set films. Avalon received four Oscar nominations and a Golden Globe nomination for Best Picture. Paradise (1991) and Radio Flyer (1992) both dealt with mature plots from marital strife to child abuse. Including Child in the Night and Avalon, these films gained Elijah recognition from the Young Artist Awards where he was nominated for each film as Best Young Actor. He took home the prize for his stirring and powerful performance as Mikey Wright in Radio Flyer. Elijah was 9 years old when he auditioned for the role of the younger brother, Bobby, but did not get the part. A week after shooting started, the director was changed, the script tweaked and recasting took place. Elijah auditioned once more and that time secured the role of the older brother.
As part of an educational series that played in classrooms as well as on the Disney Channel, Elijah portrayed the real boy Pinocchio. The short series taught children the importance of books and the human body. He appeared in five more films over the next two years: Day-O, Forever Young (1992), The Good Son, The Adventures of Huck Finn (1993), and The Witness, a short film released on cable in 1993. In this movie, another adult-themed project that dealt with the Holocaust, Elijah put to use one of his greatest assets – his eyes. The dialog-free drama is less than 20 minutes but through his intense and scrutinizing stare, viewers felt the full horror and saw the effectiveness of Elijah's physical acting.
Another essential element to Elijah's acting is his flair for comedy. Glimpses of this are seen in some of his earlier films but he stepped up the satirical turn in his portrayal of Mark Twain's mischievous southern lad, Huckleberry Finn. Elijah's take on this complicated character melds drama and farce seamlessly and the humor is spread evenly between Elijah's voice-over narration and his live performance. "They were real nice once they decided not to kill me." Huck jokingly declared.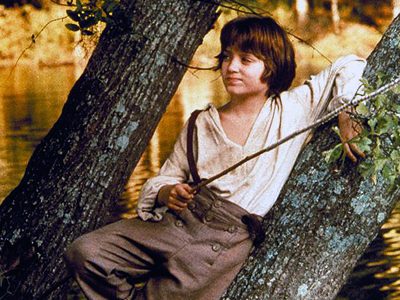 Elijah was becoming a hot commodity and his talents were applauded by those he worked with. Bob Ducsay, film editor on The Adventures of Huck Finn said of Elijah, "If you're ever in trouble in a scene you always knew that Elijah was there for you and had something, was giving you something, a reaction that would allow you to get around the problem or make something better."
Though Macaulay Culkin was the star of The Good Son, it was Elijah who gained praise for his acting in the controversial film that focused on a murderous child. His portrayal earned him a Saturn Award for Best Performance by a Young Actor. Six months after The Good Son hit theaters, Elijah found himself at the Academy Awards in 1994 as a last-minute presenter when his co-star Culkin bowed out three days before the ceremony. Most times presenters appear on stage in pairs but 13-year-old Elijah stood alone and delivered the award with professionalism, ease and a bit of humor.
After taking on a brief voice-over in the television show Frasier, Elijah next starred in North and The War both released in 1994. While the comedy North was harshly criticized, Elijah's jocular performance was deemed the best thing about the movie and he received nominations for his acting. His director Rob Reiner had nothing but high praises for Elijah. "He's like a prodigy in a way. I've worked with a lot of other young actors and it's difficult to get a good performance at times. You have to be very careful and help them along and spoon feed them. But with Elijah, that's not the case. He really comes to the part full-blown. You give him a little adjustment in a scene and he takes it as if he's been acting 30 or 40 years."
In The War, young Elijah was billed over co-star Kevin Costner who was enjoying a string of successful movies that included the Oscar winning Dances with Wolves. That's some serious clout for a 13-year-old. Set in poverty-stricken rural Mississippi in 1970, Elijah portrayed Stu Simmons who was constantly at odds with rival neighborhood kids which landed him in fights and altercations. Elijah said in a 1994 interview, "The War was the most challenging role I've ever had. And a challenge to an actor is probably the most fun you could have – to work so hard at the role and really think about it. I love getting into the character."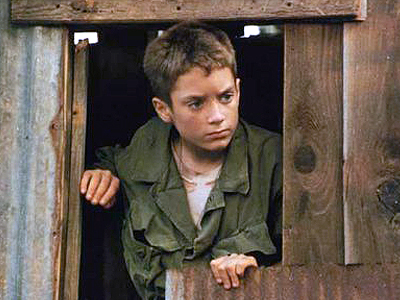 Film critic Roger Ebert stated that Elijah had emerged as the most talented actor in his age group in Hollywood history. When you think about other 13-year-old actors throughout history like Jackie Coogan, Jodie Foster, Elizabeth Taylor, Ron Howard, Joaquin Phoenix, Shirley Temple and countless others, that's an impressive compliment!
Between films, Elijah worked in national television advertisements for Pizza Hut and the National Dairy Board. In 1994 he became a spokesperson of sorts for Lay's and appeared in three Super Bowl commercials that also featured actor Jack Palance, a slew of NFL players and former U.S. Vice President Dan Quayle. He stepped back into the music scene when he appeared in the 1995 Cranberries video, Ridiculous Thoughts.
Throughout his Hollywood experience, Elijah remained just a kid, a tribute to his mother who treated him as one. On nights of filming, he was in bed by seven and if he became disobedient, Elijah's privileges were taken away. When he slipped into his celebrity duties, the child would still shine through and during some interviews, he would be seen spinning in a chair. Young Elijah took piano lessons, enjoyed playing sports, collected action figures, cared for his dogs, played video games and listened to music. Elijah went to public school during his first three years in Hollywood and excelled in History and English. Later, his education was changed to home schooling and private tutors. He had thoughts of attending college like USC or UCLA's film school.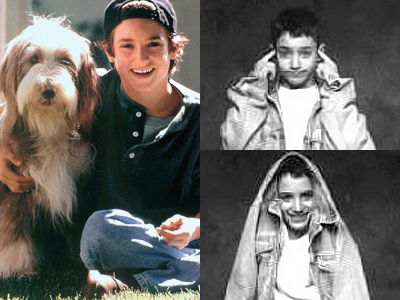 As much as Elijah was a child, on set he was always treated as an adult and found it difficult. "I grew up fast mentally and didn't relate to people my own age. I was always surrounded by people three times my age and I guess it rubbed off." This made making friends at a young age also a struggle. Elijah explained, "I really felt the lack of friends and that social situation of being with people my own age. I just didn't have anyone to hang out with." Because of this, Elijah wanted to drop out of acting but quickly extinguished the idea. "Ultimately I felt like I enjoyed what I was doing much more than what I was missing."
Whether knowingly or not, Elijah carved a niche for himself in Tinseltown as an acclaimed and gifted young actor despite never being formally trained. With 13 movie projects in just five years on his resume, he was working steadily in Hollywood and showed no signs of slowing down even during a personal crossroad in his life.