"Fame is a vapor. Popularity is an accident, and riches take wings. Only one thing endures and that is character."
~Horace Greeley
In the mid-1990s, something happened in Elijah's career that hadn't been seen since he began. He went a year without appearing in a film, music video or commercial. This was about the time his parents Debra and Warren went through a divorce. It's not documented or explained if this was the cause of Elijah's absence from filmmaking, but the proceedings could have had an indirect impact.
Elijah didn't feel traumatized by his parent's breakup as he never had a conventional relationship with his father and always felt closer to his mother. As he remarked in a 2013 interview, "It didn't seem like a shock, it didn't leave any emotional scarring – it was something that I was able to emotionally and intellectually understand."  Another possible reason for Elijah's hiatus was the negative reviews of North. The film only being his eleventh was his first one berated across the board. It may have taken time for Elijah to shake it off and realize it was the film, not he, that was criticized.
When Elijah was 14 he jumped back into filming the movie remake of the TV series Flipper (1996). One of the main factors that persuaded him to take the part was swimming and interacting with dolphins as it was something that he desired to do. Shot in the Bahamas, the set was relaxed and Elijah called it his "vacation." His strong likability was felt by his aquatic mammal co-stars Fatman, MacGyver and his favorite, Jake who bonded with him quickly. The film was also going to be Elijah's first on-screen kiss. The scene was shot but did not make the final cut of the movie. That kiss would come a year later.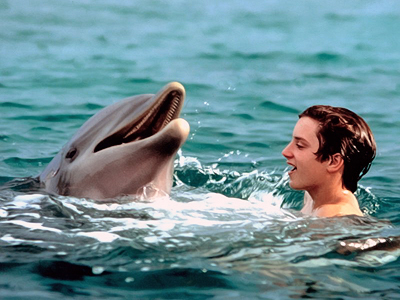 Buzz of Elijah's role in Flipper shifted him from adorable adolescent to teenage icon. He was a favorite subject of light fluff in magazines like Teen Beat, BOP, and Tiger Beat. Fans would camp out at his family's home, sometimes knocking on the door to make daring requests. "Oh! I can tell you about that." Elijah spoke with some exasperation in a 1996 interview. "Every body knew where I lived, and everybody came to my house. Some parents came to my door and said, 'Can you make an appearance at my daughter's birthday party?' . . . They just hound you."
This started a precarious stage in Elijah's life. Like many young successful actors before and after, he could have potentially become susceptible to the pitfalls of Hollywood's lavish and sometimes destructive lifestyle. Many young actors who are impressionable can take the path of poor money management, an inflamed ego, and substance abuse, thus spiraling out of control to become a sad statistic. However, Elijah was far from this fate. Through the devoted upbringing from his mother and her persistent guidance on how to stay grounded and not be affected in adverse ways by others, Elijah remained unscathed.
"A lot of influence comes from the parents." Elijah explained in a 1997 online interview. "If he or she is raised well, then their defenses are going to be higher, or stronger. If a child isn't raised well, with good values and priorities, they can be easily influenced by the negatives that Hollywood has to offer. I've got a wonderful mother who has raised me so well; I could never see myself getting ruined by Hollywood as so many child actors have."
The flip side of this is parents who exploit their child's career and cash in on their fame. But Debra's main concern was to raise Elijah properly and to educate and protect him from the harsh film industry. She had no wish to become a dominating Hollywood parent. Another factor Elijah is grateful for is that he wasn't propelled into instant stardom at a young age. The roles he took allowed him to gradually thrive from one project to the next.
"I wouldn't really wish that on anyone. It's just difficult. When it happens that quickly, and unless you're prepared for it you don't necessarily have a built-in system of tools to know how to handle that. Some people do; it's not impossible. But I was really lucky. I kind of had a very gradual growth."
With the craziness of popularity and fame not even a glint in his bright blue eyes, Elijah took on the role of a brash prep-school bully in the television crime drama series, Homicide: Life on the Street in 1996. This was the first time people got to see a different side to Elijah's acting; a dark and unstable side. This was the perfect bridge for a huge turning point in Elijah's acting career when he was cast in the critically acclaimed 1997 film The Ice Storm.
Elijah was just 15 years old when he began work on "…one of the greatest movies I've ever been a part of." Adapted from the novel of the same name, The Ice Storm's tale is of two dysfunctional families in Connecticut during the early 1970s. Not like his spirited character in The War which took place during the same decade, Elijah's excellent rendition of Mikey Carver was extremely passive, and he got his first on-screen kiss; one that made him slightly uncomfortable because of the watchful eye of his mother on set.
Director Ang Lee made sure each of his actors tacitly understood their characters. He gave them packets of research material from the 1970s, questionnaires they would fill out about their character as well as music choices their character may have listened to. For Elijah, that music would be Dark Side of the Moon by Pink Floyd. Lee also directed everyone involved in the production to practice in Tai Chi.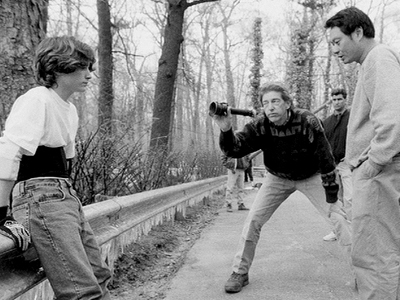 Working in such a thorough manner was a new and profound experience for Elijah. It started his transition into being an adult actor and opened his eyes to what acting could be. He became aware for the first time of wanting a sense of longevity in filmmaking despite being in movies for nearly 10 years. All that hard work paid off as The Ice Storm won several awards for the best film of the year. Elijah gained more acting nods for his work in both Flipper and The Ice Storm from the Young Star Awards and the Young Artist Awards. In November of 1997 Elijah was back on television portraying his second literary great character, the Artful Dodger in Disney's production of Oliver Twist. Elijah traveled alone for the first time to make the film in Ireland.
The summer of 1998 was the battle of the disaster movie releases. Elijah portrayed a high school astronomy student who discovers an annihilating asteroid in Deep Impact. While its counterpart Armageddon was the box office winner that summer, it was Deep Impact that won over with its focus on humanity. An adult responsibility Elijah had to face was to obtain his driver's license for the film. He had to operate a motorcycle amid an obstacle course of debris and a highway of automobiles. He got his license and rode the bike like a pro.
While the asteroid invasion took place in theaters, Elijah started work on the sci-fi alien horror film The Faculty. This was his first venture in the horror genre he takes to heart so much. Filmed at various locations throughout Texas, The Faculty became a cult classic after its theatrical release on Christmas Day of the same year. Elijah remained hard at work and focused his attention on three independent films; the poignant The Bumblebee Flies Anyway (1999), the culture clashing Black and White (1999) and the offbeat comedy Chain of Fools (2000) with the latter two films boasting an all-star cast.
Chain of Fools put Elijah back into comedy as he portrays the teenage hit man "Mikey – studying for his GED" as the film hilariously introduces in the character's subtitle. Playing the assassin in a cast of misfits mixed up with valuable stolen coins, Elijah gives his character impressive undulating range. Mikey tries to show how deadly serious he is about being an assassin by inventing outlandish tales of his previous assignments. At the same time, he is desperately trying to new make friends so they can attend Broadway shows with him.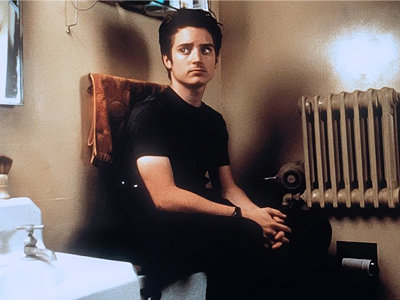 As fate would have it, while filming The Faculty, a worm was planted in Elijah's ear. Film critic and co-star Harry Knowles alerted Elijah to the news that Peter Jackson was to direct a film adaptation of J.R.R. Tolkien's epic fantasy novel The Lord of the Rings. Harry thought Elijah would be perfect for the protagonist, though the idea seemed like an impossibility to the young teen. Later that year, casting started on the movie and Elijah was about to embark on a career-changing project that would catapult him to worldwide fame.