"Do not follow where the path may lead. Go instead where there is no path and leave a trail."
~Ralph Waldo Emerson
Imagine what life would have been like for Elijah today if he had landed the role of Christian in Moulin Rouge!. Elijah auditioned for the period musical by choosing the tune Embraceable You to sing. But his future resided in a little audition tape he filmed for another movie.
Casting for The Lord of the Rings trilogy started late in 1998 in London, New York and Los Angeles with hundreds of hopefuls who competed for the role of the main character, Frodo Baggins. The production team called for fairly unknown actors between 18 and 24 years old with a height from 5'4″ to 5'9″ and a British accent. They were to exhibit good-looking, fine features.
Elijah had not read The Lord of the Rings; however, The Hobbit, J.R.R. Tolkien's first published writings of Middle Earth was a favorite of his. When the prospect of being a part of the movie came, he went to the office in L.A. to read the script behind closed doors to secure its secrecy. After that brief reading, the script left a deep impression on Elijah. Still, he felt he had to make a bigger impact than just delivering lines in a sterile room. He wanted to convey the excitement he had for the project and decided to produce a video tape to show how enthusiastic he was. Elijah bought a costume indicative of hobbits, had some dialect coaching and took to the woods and his home to film three scenes shot by his friend, filmmaker George Huang. Elijah helped with the tape editing at Miramax Studios and handed it off to the casting office in L.A. and thus it was sent to Peter Jackson who was scouting for his Frodo in London.
Jackson spoke in a 2001 press conference: "We had an agenda initially to cast English actors as the hobbits…. and a package arrived in the London office from Elijah Wood. We were at a desperate point where we really couldn't find a Frodo then suddenly we put in this video tape and there was Frodo! It was an extraordinary thing."
When Peter Jackson traveled back to Los Angeles, Elijah was called on to read for the director in person. This was the first time Elijah met with Jackson whom he admired for his film, Heavenly Creatures. A couple of months after that meeting, Elijah got a call from his agent who told him to stay by his phone. Expecting what was about to happen would bring Elijah to a frenetic state. On the other end was Jackson who formally asked Elijah if he would come to New Zealand for a year and a half to play Frodo Baggins.
"I didn't say much beyond 'Yes Pete, I would love to do that. Thank you.' I hung up the phone and screamed. I was overwhelmed." Elijah admits. "Just ecstatic. I couldn't really speak. My sister was running through the house screaming. It was a great day."
After the press released the official news of Elijah being cast as Frodo, avid enthusiasts of the novel vented many heated comments from disbelief to regret. But this response did not discourage Elijah. It only made him aware of how passionate the fans were and it added more pressure on him to do a good job. Elijah weighted the world on his shoulders. Not only did he have to save Middle Earth, but he also had to prove he was worthy of the task by carrying the entire trilogy.
At a time when some 18 year-olds are heading to college, Elijah was in New Zealand to start work on the biggest film of his career. He didn't complete his final grade of high school and gone was his childhood dream of attending college. He traveled to New Zealand alone to work with people he was not familiar with but it didn't take him long to fit in.
Production started early for Elijah and his hobbit cast-mates Sean Astin, Billy Boyd, and Dominic Monaghan. Jackson knew the heart of the film would fall on the close relationship of these four actors so their bonding was important. They began with makeup tests and costume fittings, script reading, fencing, horseback riding, rowing and dialect lessons. As the weeks progressed, the rest of the cast would join the quartet and principal photography on the trilogy began in October of 1999.
The daily ritual for Elijah was to be in his trailer at 5 am to get into makeup and wardrobe to begin filming three hours later. Nearly every day script revisions were handed to him so whatever lines he memorized the night before were abandoned and the day's filming wouldn't end until 8 o'clock at night. Production on the movies wasn't easy and it didn't happen sequentially. Scenes from the last film of the trilogy were shot before the first film was completed, which made the portrayal of Frodo's character arc all the more challenging.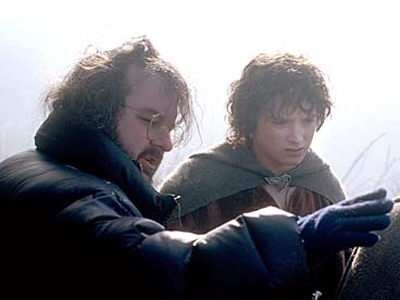 "Elijah is amazing. He walks such a fine line because his character is being eaten and he's slowly coming apart and it could be so easy for it to get really tiresome." said Brad Dourif who portrays Grima Wormtongue in The Two Towers. "Somehow he manages to walk a beautiful line with it. I don't think I could do that. I'm really quite in awe of him."
Logistically, the filming was an ordeal. Elijah found himself shooting in parts of New Zealand that some New Zealanders have never seen and helicopters were necessary to reach some locations. The cast had to endure treacherous regions and extreme weather conditions. It was a grueling first couple of months so Elijah's heart was set to return home for the short Christmas break.
With his mindset back on track after the holidays, Elijah and the cast filmed six days a week for the entire year of 2000 but it wasn't all work. He spent his time off surfing, enjoying the local restaurants, nightclubs and bars with other cast-mates. Elijah and Dominic Monaghan found many opportunities to deejay at some of those bars, which began Elijah's love of the craft. Elijah was heard singing and playing on several tracks with other Lord of the Rings actors on Viggo Mortensen's album Pandemoniumfromamerica. The actors who made up the fellowship, along with Jackson, got tattoos of the number 9 in Tolkien's Elvish script as evidence of their camaraderie. Elijah's tattoo was placed on his lower torso and this act of brotherhood was to express the lasting friendship they would have.
Finally, after 16 months of rigorous shooting, the last scenes were rapidly completed in December of 2000. When Elijah returned home, he felt lost and went into hibernation. "I really didn't know what to make of my own life anymore. I was more exhausted than I've been in my life. I remember feeling like I didn't want to do anything for a while. I also just didn't have any perspective on my life anymore, what that was about. It's kind of an unsettled feeling."
The best way for Elijah to combat those uneasy feelings was to shoot the Edward Burns directed Ash Wednesday for a couple of weeks in January 2001. But after agreeing to do the movie, Elijah had second thoughts. "I said 'Yes – definitely.' But when I was driving home, I was thinking 'Do I really want it? I'm tired. I don't want to work.' I almost gave him a call to pull out of it or give an excuse. I'm glad that I did agree because it got me started again."
As Elijah settled back in his life and career, he did voice work on video games and the direct to video animated movie The Adventures of Tom Thumb and Thumbelina. He reunited with The Faculty director Robert Rodriguez to make a cameo in Spy Kids 3D: Game Over and went to British Columbia to film All I Want/Try Seventeen released in 2002. Elijah was in a fleeting relationship with his German actress co-star Franka Potente. It was rumored for a long time that Elijah's inseparable silver ring inscribed in Hebrew, "If not now, when?" was a gift from Potente.
With romance aside, Elijah returned to New Zealand in August of 2001 to film pick-ups for The Fellowship of the Ring. These extra shots would happen over the next three years to make the trilogy as complete as possible. Before the release of his other projects, Elijah was in a Lord of the Rings whirlwind. Appearances, conferences, photo shoots and press junkets were in abundance as the world was in a frenzy over the first installment, The Fellowship of the Ring, due in December 2001. When an exclusive preview was released on the trilogy's official website, it was downloaded 1.7 million times during the first 24 hours. Even more zealous, reports came in that fans flocked to theaters, paying full admission for any movie just to watch the trailer of The Fellowship of the Ring, then leave. These acts of enthusiasm banished earlier discontent of Elijah being cast as the hero hobbit.
While on the promotional trail in New York City with co-stars Sean Bean and Orlando Bloom, Elijah was on the cusp of the worst terror attack in history when he left for L.A. on September 11th. "I actually flew out of New York that same Tuesday morning. My plane took off at about 8:45 am, which was pretty much the time everything happened. Someone on board said they actually saw smoke coming out of one of the buildings." His plane quickly landed in Cincinnati, Ohio where the passengers were left oblivious to the horror that was transpiring. Years later during a podcast, Elijah disclosed other troubling information of that day. "We were on the set of [Maniac] and a girl that was acting on the film said 'I have a friend who worked for American Airlines and she knew you were on a plane on 9-11 and was sure that there were terrorists on your plane.' " Thankfully, because the FAA diverted all aircraft, they deboarded and nothing happened.
After the film's theatrical release on December 19th, The Fellowship of the Ring became the biggest box office movie of the year. It was honored with over 100 awards including 13 Oscar nominations, taking away four of the statues. From 2001 to 2003, Elijah lived in Middle Earth. He fell into rigorous publicity and there was still extra filming to be done on the remaining movies, The Two Towers (2002) and The Return of the King (2003).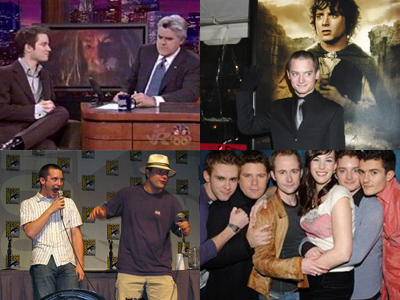 In January of 2003, Elijah began shooting in New York City on the critically acclaimed Eternal Sunshine of the Spotless Mind which earned an Oscar for Best Screenplay. Then in August of 2003, Elijah became severely ill and was hospitalized for two weeks as a result of acute appendicitis. He had been feeling pains in his abdomen but never suspected it was his appendix. He was rushed to emergency to have it removed and took a little time to recover. Once he did, he was just as busy as ever.
One of the first things Elijah did was let go of the apron strings to move across the country from Santa Monica to live in the Flatiron District of Manhattan. He shared an apartment with his sister Hannah but it didn't last long. Elijah never spent much time there because of promotional work that took him around the world. Just before moving back to the west coast, Elijah hosted NBC's long-running program Saturday Night Live on December 13, 2003.
The Lord of the Rings hit a fever pitch when the final film, The Return of the King, was released on December 17, 2003. It crowned the entire trilogy and dominated the Oscars, winning all 11 awards it was nominated for including Best Picture. It was the first time in the history of the Academy a fantasy film took that honor. The Lord of the Rings trilogy gained a total of 30 Oscar nominations, winning 17 times. The franchise was so successful, it earned close to 3 billion dollars worldwide. It garnered over 350 awards, some of which Elijah took home such as his Screen Actors Guild Award for Best Cast Ensemble. It's difficult to imagine anyone else as the lead hobbit in the films. To this day, Elijah is still associated with Frodo, a testament to his extraordinary work in a cultural phenomenon the public will not soon forget.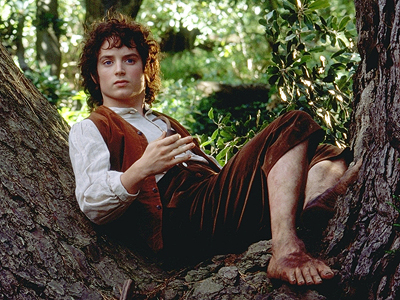 When being interviewed for new films, some reporters would question Elijah under the naïve assumption that he hadn't worked since The Lord of the Rings. A decade after the trilogy, one interviewer asked if it was a shock to go into a movie that took only four weeks to complete. Being the thoughtful person he is, Elijah answered tactfully, explaining how long it had been since the movies, saying he was used to films lasting a short period. Elijah stated in 2013, "Sometimes I can be frustrated at the laziness of journalists who just won't let something die. They'll be like, "Frodo is doing a horror movie." That's annoying. I've done ten years of other movies. But The Lord of the Rings will be with me for the rest of my life, I'd be a fool not to recognize that."
Elijah took a journey – his own path both professionally and personally over a four-year period that would affect the rest of his life. Throughout all the success and exaltation he experienced, Elijah didn't let any of it inflate his pint-sized ego. After 12 years working consistently in the film industry, he had skyrocketed to worldwide fame. He was so convincing as the British-tongued hobbit, many who did not know of his previous work thought he was an England native. Several months after filming ended, Elijah still carried a hint of an accent with him. Images of Frodo were displayed on an Air New Zealand passenger plane, their postage stamps, coins, and made into an action figure. But despite all this attention, he remains grounded and one would be hard-pressed to hear Elijah describe himself as a "star" or "famous." He will negate those who do, referring to himself as merely "recognizable." He refuses to let this label define the years to come.